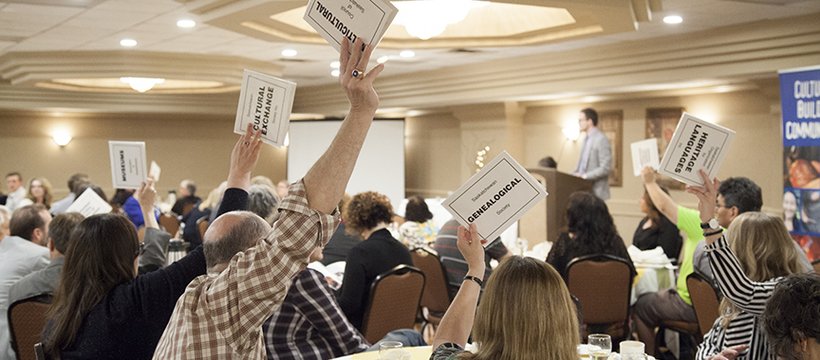 Annual General Meeting
SaskCulture's 2017 Annual General Meeting
SaskCulture's Annual General Meeting and Education Session will take place on Friday, June 16, 2017, at the Conexus Arts Centre in Regina.
Nonprofit Lifecycles and the Art of Self-Assessment Workshop
The day will begin at 11:00 a.m. (registration will open at 10:30 a.m.) with a buffet lunch followed by a workshop and presentation by Susan Kenny Stevens, founder and author of the Nonprofits Lifecycle Approach.
This session offers nonprofits a practical way to think about organizational capacity. Using seven lifecycle stages to describe the predictable growing pains nonprofits experience at various stages of development, this session will present concepts relevant to all organizations whether newly formed, emerging, experiencing rapid growth, or mature.
Based on the presenter's widely popular book, Nonprofit Lifecycles and the Self-Assessment Workshop, this session is ideal for board and management to attend together. Come and learn how to self-assess your organization's management, governance, financial resources, and administrative structures as the vital support systems for your important mission and programs. There will be lots of practical examples, as well as an opportunity to put your learning into action.
There is a $40 registration fee associated with this year's education session, which includes a copy of Susan Kenny's book, Nonprofit Lifecycles: Stage-Based Wisdom for Nonprofit Capacity.
Annual General Meeting
Supper will take place at 5:15 p.m. and will include bestowing a Honourary Life Membership on a deserving individual. The AGM will formally commence at 6:30 p.m. All members are welcome to attend and participate in the Annual General Meeting; however only voting members are eligible to vote. There is no cost to only attend supper and SaskCulture's AGM.
In preparation for the Annual General Meeting, this package includes:
The meeting agenda;
Minutes from the June 17, 2016, Annual General Meeting;
SaskCulture's detailed Audited Financial Statements with financial analysis; and
SaskCulture's 2016-17 Annual Report
Please remember to bring these materials to the meeting.
In 2016, the size of the SaskCulture Board was reduced from fourteen (14) to ten (10) directors. As a result, some changes were implemented to the Annual General Meeting and nomination process. Going forward, instead of the Call for Nominations starting after the annual meeting is called to order, the Call will commence at the start of the afternoon's education session and conclude a couple of minutes prior to the start of the AGM. That means if anyone is planning to run from the floor, he or she need to be in the room by 6:10 p.m. A policy document on the election process that was approved by the Board is also included.
Registration is required for all components of the day. You may register online, and pay by credit card, at http://tickets.saskculture.ca or by calling Nichole at the SaskCulture office at 306-780-9259. Registration deadline is June 5th. This information will enable us to prepare for the meeting in terms of room set-up, meals, refreshments and resources.
Members are responsible for making their own hotel reservations. SaskCulture negotiates preferred rates for its members from a variety of hotels in Regina. You can find the list of hotels to choose from to book accommodations for June 16th here.