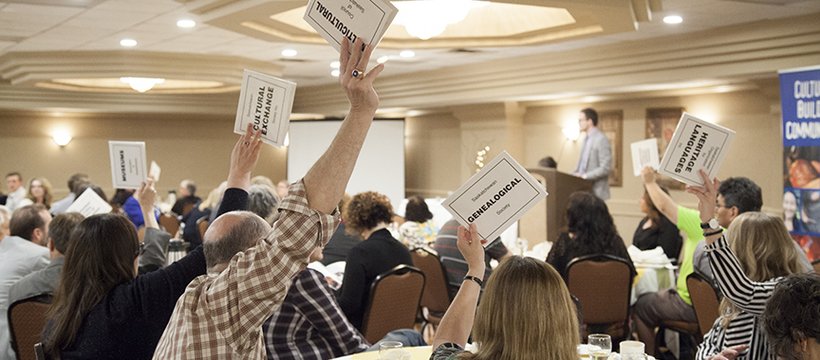 Annual General Meeting
SaskCulture's 2016 Annual General Meeting (AGM)
SaskCulture's 2016 Member Consultation and AGM took place on June 17, 2016. Elder Lindsay Starr opened the afternoon meeting with a prayer, followed by an informative and lively presentation about Treaties by Lyndon Linklater of the Office of the Treaty Commissioner's Speakers Bureau. Other presentations covered diversity planning, Culture Days, Creative Kids and RespectEd. Dr. David Millar was the recipient of a SaskCulture Honourary Lifetime Membership for his outstanding contributions to the cultural community in Saskatchewan. Minister of Parks, Culture and Sport, Mark Docherty brought greetings during supper on behalf of the Province of Saskatchewan.
Following supper, SaskCulture AGM delegates elected candidates to the newly streamlined, ten-member SaskCulture Board of Directors. Joanne McDonald was elected as President and Pat Grayston moves into the role of Past President; they are joined by Adrian Halter, Devon Coles, Gwen Machnee, Pratyush Das, Shakeel Akhtar, Lauren Stead, K. James Rose, and Sekwun Ahenakew to make up the 2016/17 Board.

SaskCulture thanks departing board members - James Ingold, Edith Montesclaros, Renu Kapoor, and James Winkel - for their contributions and dedication to supporting SaskCulture and culture in Saskatchewan.