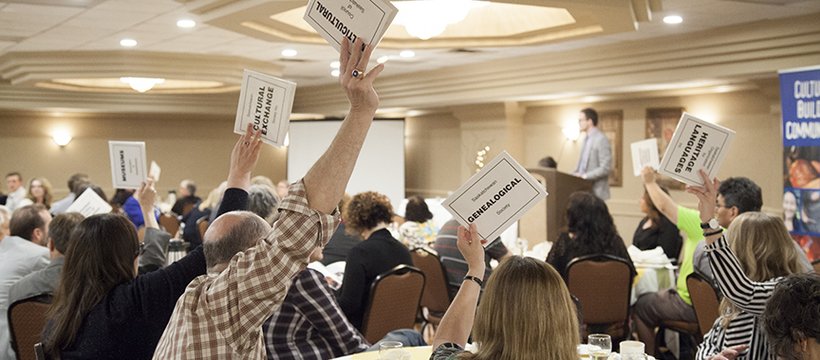 Annual General Meeting
SASKCULTURE ANNUAL GENERAL MEETING & MEMBER EDUCATION SESSION
Friday, June 14, 2019
Conexus Arts Centre, Jacqui Shumiatcher Room
200 Lakeshore Drive, Regina
---
10:00 a.m.-2:00 p.m.
Reconciliation Mapping Exercise
As part of a process to develop a baseline of where the province, communities and organizations are in their journey to reconciliation, the Office of the Treaty Commissioner (OTC) has developed a mapping exercise that they have been piloting and refining over the last few months. The process asks organizations to reflect on which areas of reconciliation they are working on and identify where their organization would land in a Venn diagram based on the four elements of the vision: a Shared Understanding of Our History; Authentic Relationships; Strong Cultures, World Views and Interwoven Experiences; and Political, Economic and Social Systems that Represent and Benefit Us All.
The mapping process is great for facilitating conversations around reconciliation within an organization, providing time dedicated to thinking about reconciliation and helping to identify areas of strength and elements to work on for future activity planning. Together, all groups involved help analyze the data compiled on the map and consider ways to make further progress. All member organizations are welcome to attend. The first member of an organization is free, but a $30 fee will apply for all additional members. Lunch is included.
2:30-4:30 p.m.
The Meaning of the Arts to Northern Youth
What are the personal impacts of cultural activities on youth in the North? Five youth from Northern Saskatchewan want to share their experiences with SaskCulture's members. From music to painting, these youth will provide their personal stories about the positive impact of cultural programming on their lives and futures. They may even share their talents with everyone. The speakers include:
Tristan Durocher (Buffalo Narrows) – Photographer
Dillon Gazandlere (Wollaston) – Musician
Jeremy Corrigal (Ile a la Crosse) – Musician
Andrea Ratt (Timber Bay) – Beadworker
Jewel Charles (La Ronge) – Painter
5:00-6:00 p.m.
Supper Program
This will include greetings from the Honourable Gene Makowski, Minister of Parks, Culture and Sport, as well as bestowing a Honourary Life Membership on a deserving individual.
6:15-7:00 p.m.
Keynote Address – Tracey Lindberg
Tracey Lindberg is a graduate of the University of Saskatchewan, Harvard University and the University of Ottawa law schools. A citizen of the Kelly Lake Cree Nation, Dr. Lindberg's research interests include traditional Indigenous governments, Cree laws and the translation between Canadian and Indigenous laws, Indigenous women and legal advocacy and activism by and for Indigenous peoples. She is the winner of the Governor General's Gold Medal for her dissertation, "Critical Indigenous Legal Theory", and has also been awarded a Canada Research Chair in Indigenous Traditional Knowledge, Legal Orders and Laws. Dr. Lindberg spends much of her time working with spiritual leaders, Elders and Indigenous community members to record and translate laws. In addition to her academic writing, she writes fiction and has a novel coming out with Harper Collins this year. She also sings and records music with an Alberta based swing band.
7:15-8:30 p.m.
Annual General Meeting
In addition to regular business and elections, the Board will be proposing a number of changes to the SaskCulture Constitution. The proposed changes plus explanations for those changes were emailed and mailed to all voting members on May 1st, 2019. The working copy of the current constitution with the proposed changes can be found here.
All members are welcome to attend and participate in the Annual General Meeting; however only voting members are eligible to vote.
How to Register:
Registration is required for all portions of the day.
There is a registration fee associated with the Mapping Exercise only. The first member of an organization is free, but a $30 fee will apply for all additional members. There is no fee to attend the sessions after 2:00 p.m.
You may register online, and pay by credit card, here or by calling Nichole at the SaskCulture office at 306-780-9259. Registration deadline is June 3, 2019. This information will enable us to prepare for the meeting in terms of room set-up, meals, refreshments and resources.
Registration will open at 9:30 a.m.
Accommodations:
A block of rooms has been reserved for SaskCulture members at the DoubleTree Hotel, 1975 Broad Street. Visit http://bit.ly/saskculture to book a room at a rate of $119/night or phone 306-525-6767. The block will be held until May 15, 2019.
---
Proposed Changes to SaskCulture's Constitution
As a result of the feedback received from the membership during and after those sessions, we have made some further changes to Constitution. The revised version of the Constitution for your consideration for approval in June is available to the right as a download.
Most of the changes in the draft Constitution as circulated are in red with an explanation for the change inside a box following that portion of the constitution. In the cases where the suggested changes are based on other documents there are notes on where those changes come from in blue. The changes to the Principles and Values, which are on page two of the Constitution are substantial so they are being shown side-by-side with the current version in column one and the proposed version in column two. A backgrounder document that explains the changes to the Principles and Values can also be downloaded from the area to the right.
This, along with the accompanying document that can be downloaded from the section to the right, serve as official notice of the proposed constitutional changes to be presented at SaskCulture's 2019 AGM which takes place Friday, June 14, 2019, in Regina at the Conexus Arts Centre.
In the next couple of weeks you will receive the registration package for the AGM. In the afternoon, prior to the AGM, we will be hosting a northern youth panel on the importance of cultural activities and author, Tracey Lindberg, will deliver a keynote address following supper.
If you have any further questions or concerns regarding the proposed constitutional changes, do not hesitate to contact our CEO, Rose Gilks, at rgilks@saskculture.ca.