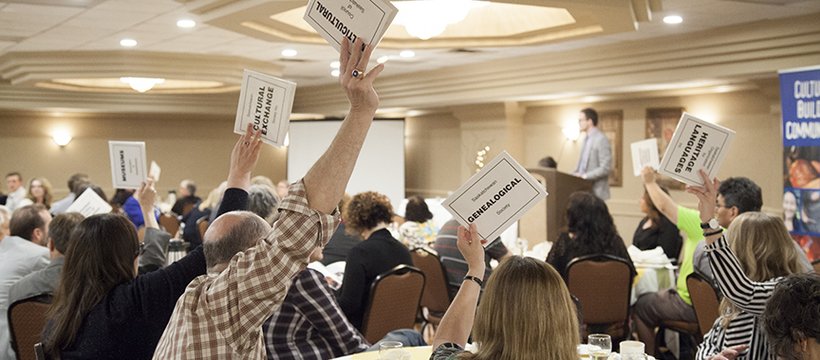 Annual General Meeting
SaskCulture's 2018 Annual General Meeting and Member Sessions
20th Anniversary!
Can you believe that SaskCulture has turned 20 years old! The membership of its predecessor, the Saskatchewan Council of Cultural Organizations (SCCO), passed the necessary motions to form SaskCulture Inc. in October of 1997 and the new organization came into existence as of January 1998. This June, please come to the Annual General Meeting and Membership Sessions to help us celebrate our past and look to the future.

In addition to the AGM and Member Input Session on June 15th, SaskCulture will also host an Educational Session on Saturday, June 16th. That session will assist organizations to gain a better understanding how to move forward with Truth and Reconciliation by learning more about the United Nations Declaration on the Rights of Indigenous Peoples (UNDRIP) and the Principles of Reconciliation. Remember, we are all Treaty people so these documents are very pertinent to your organization.

Here is what the two days will look like:

Friday, June 15, 2018
Conexus Arts Centre, Jacqui Shumiatcher Room
200 Lakeshore Drive, Regina

1:30 – 4:30 p.m.
SaskCulture Today: Twenty Years in the Making and the Next Twenty Years
This will be an opportunity to talk about the work of SaskCulture over the past 20 years, and to enable the membership an opportunity to provide direction for the future.

5:00 p.m.
Celebration Supper: Prairie Fest
Highlighting 20 years, greetings from the Government of Saskatchewan and special recognitions.

6:30 p.m.
Annual General Meeting
All members are welcome to attend and participate in the Annual General Meeting; however only voting members are eligible to vote.

Saturday, June 16, 2018
Ramada Plaza, Canadian North Room
1818 Victoria Avenue

9:30 a.m. – 3:30 p.m.
Education Session – How to Implement the United Nations Declaration
Workshop Leaders: Zoey Roy and Arnold Blackstar
Co-sponsored by Heritage Saskatchewan and the Multicultural Council of Saskatchewan.

The session will build on your knowledge by establishing a historical narrative that is the truth of this land called Saskatchewan. Insight will be provided on major political decisions that have current implications. According to the Truth and Reconciliation Commission (TRC), the goal for everyone is to work within the framework of the United Nations Declaration on the Rights of Indigenous Peoples (UNDRIP) and the Principles of Reconciliation. Concrete structural and institutional changes that need to be made are within the TRC Calls to Action.

Zoey's focus through this session will be to guide organizations toward compliance within the Calls to Action and UNDRIP and a pledge to engage in ongoing public dialogue, initiatives and actions that supports this shift in society. By attending, organizations will be able to identify areas within their policies, programs, and practices that should be more inclusive.

Registration will open at 9:00 a.m. and lunch is included.
There is a $30 registration fee associated with this education session, $40 for non-members.

How to Register:
Registration is required for both days. You may register online, and pay by credit card HERE or by calling Nichole at the SaskCulture office at 306-780-9259. Registration deadline is June 1st.

Accommodations:
A block of rooms has been reserved for SaskCulture members at the Ramada Plaza, 1818 Victoria Avenue. Phone 306-569-1444 and quote SaskCulture Inc./CGWIL1 for a rate of $115.00/night. The block will be held until May 22, 2018.