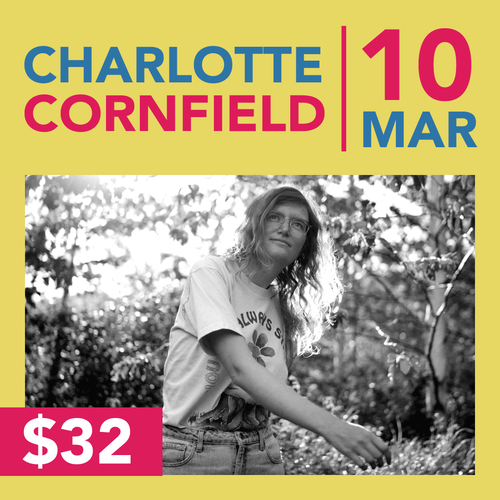 2023
Mar 10
8:30 AM — 11:00 AM
The Lyric Theatre
227 Central Ave N
Swift Current SK
Treaty 4 Territory
Cost: 30
General Admission, all ages, rush seating. Buy before October 1st and save the new PST!
Buy Ticket
Blenders Presents Charlotte Cornfield
After spending much of 2020 with her thoughts and instruments, Charlotte Cornfield knew it was time to take her new songs out of the house. She'd spent months writing a suite of evocative, autobiographical story-songs in near-solitude, and was ready for the immediate, regenerative experience of a band playing live in the studio. But this wasn't mere pandemic-related longing. It was instead a long-simmering desire.
The Canadian singer, songwriter, and multi-instrumentalist's 2019 album The Shape of Your Name had received widespread praise, including being longlisted for the coveted Polaris Music Prize. But it was a slow solo endeavor, written alone and meticulously recorded in fits and starts over the span of a few years. She'd even played most of its instruments. It was a mode that proved fruitful, if not inauthentic to the spirit of musical community Cornfield has dedicated herself to since childhood. After coming of age amid vibrant DIY scenes in her hometown Toronto, and forming lasting bonds in the music program at Montreal's Concordia University, for Highs in the Minuses Cornfield knew she needed a cast that was representative of her journey — those friends and colleagues who've helped her become the incisive, witty, and generous writer and player she is.
Though the songs of Highs in the Minuses are highly personal, Cornfield wanted their sonic quality to convey the communal, acoustic energy of live performance. Channeling the spirit and working methods of Jason Molina, Neil Young, and Big Thief before her, she and the band allowed their psychic connection to convey the emotional interconnectedness that comes with stories of heartbreak, self-discovery, and new love. "I knew everyone was coming in prepared, but I was really excited to see what was going to happen spontaneously, and those ideas that happened really quickly," Cornfield says. "It was so much about trusting who I was with and trying to capture the immediacy of the emotions in the songs." So many of the tunes expose her messy corners, and an animate soundtrack played with equal parts heart seemed only fitting.
Though Highs in the Minuses teems with brutal honesty, it does not weaponize its pain. Instead, Cornfield presents its details like a documentary, laying out her facts without a hint of bitterness or an evident agenda. So is it difficult to be so vulnerable? To showcase one's flaws and longing for all the world? "For the first few years I was a little on edge about it like, 'What if so-and-so hears and knows it's about them,'" she recalls. "But now I'm way over that, because for me it's the best way to connect. I've always loved music that is vulnerable. I'm really into honesty that way."
Catch Charlotte Cornfield March 10, 2023 at Blenders! Tickets are $30 until October 1st, $32 after with the new PST, and are available at Swift Current Pharmasave or online at
eventbrite.com
. Doors at the Lyric Theatre will open at 7:30pm and the music begins at 8:30pm.
Buy Ticket
2023
Mar 10
8:30 AM — 11:00 AM
The Lyric Theatre
227 Central Ave N
Swift Current SK
Cost: 30
General Admission, all ages, rush seating. Buy before October 1st and save the new PST!
Organizer
Accessibility
Wheelchair Accessible
Sight Impairment
Safe and Inclusive Space