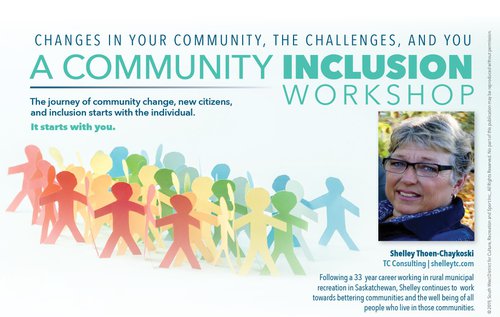 2019
Nov 19
10:00 AM — 4:00 PM
Days Inn
105 George Street West, Swift Current
Cost: FREE to member communities / $20 for non-members
Community Inclusion Workshop
CHANGES IN YOUR COMMUNITY, THE CHALLENGES, AND YOU - A COMMUNITY INCLUSION WORKSHOP

The journey of community change, new citizens, and inclusion starts with the individual. It starts with you.

Through interactive storytelling, learning activities, and discussion, Shelley Thoen-Chaykoski will share the
knowledge she has gained through living, working, and playing in a changing community.

Explore:
• The ways your community has changed
• The challenges it is facing
• What you would like your community to become

TRAVEL ASSISTANCE: Participants from SWDCRS member communities are eligible for travel support.

REGISTRATION DEADLINE: NOVEMBER 14, 2019
Alternate date, in case of inclement weather, Thursday, November 28, 2019

Shelley Thoen-Chaykoski - TC Consulting
Following a 33 year career working in rural municipal recreation in Saskatchewan, Shelley continues to work towards bettering communities and the well being of all people who live in those communities.
2019
Nov 19
10:00 AM — 4:00 PM
Days Inn
105 George Street West, Swift Current
Cost: FREE to member communities / $20 for non-members
Organizer