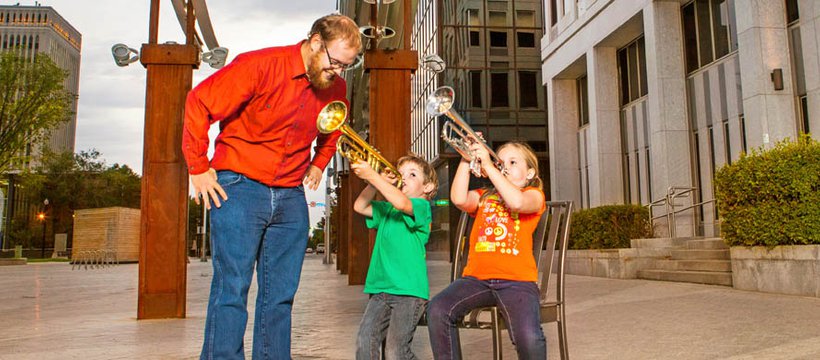 Increasing Access with Creative Kids
The Creative Kids Program was officially launched by SaskCulture in 2010, based on an idea proposed by community visionary, David Millar, and the support of a provincial advisory committee. After a feasibility study, SaskCulture was able to gather the support and initial funding needed to build a provincial program that would support children and youth, who faced financial barriers to their participation in quality cultural and/or creative programming. A Creative Kids Coordinator was hired in 2010 to help develop the program, solicit sponsorship, recruit local pilot communities, coordinate the provincial committee and establish a system to distribute funds (up to $750 each in funding) to children and youth facing barriers to participate in cultural activities.
By 2011, six pilot community committees were fully functional – Big River, Shaunavon, Battlefords, Lakeland District, Regina and Saskatoon, and helping to offer the program in their individual communities. Children and youth from communities without committees were able to apply to a larger provincial fund.
In its first year of operation, Creative Kids had provided more than 600 children and youth in Saskatchewan, from 21 different communities, with more than $100,000 in grant support. Generous sponsorships and donors helped build the pool of dollars available for support, including early funds raised through the Mayor's Business and the Arts Luncheon held in Regina. In the first year, the Saskatchewan Arts Board provided funds generated at the Saskatchewan Pavilion during the 2010 Olympic Games in Vancouver, which ended up coming back into a Legacy Fund, to support the first grants given by the Creative Kids Program. SaskCulture continues to cover all administrative costs for the program, so any dollars raised would be available to support approved applicants. In 2012-13, SaskCulture began providing an additional annual grant to Creative Kids from the Culture Section. Over the years, larger sponsors came on board including PotashCorp, Great West Life and SGI.
Besides key sponsors, Creative Kids launched several popular and successful fundraising initiatives. In 2013, Creative Kids Saskatoon hosted the first Creative Mayhem event, featuring Sons of Anarchy star, and Saskatoon native, Kim Coates. Creative Mayhem brought together an "outlaw chic" audience for autographs, entertainment and generous donations. The event was held again in 2014 and 2015, raising more than $150,000 over the three years. In addition, Creative Kids Regina hosted two major RCMP Fundraising Galas – the first held in May 2014, and the second in May 2015 - raising more than $180,000 for Creative Kids. Other popular fundraisers included the India Canada Supper held in 2016, as well as Nourish, Vintage and the Daughters of Penelope luncheon held over the past four years.
In 2015, Cameco provided a $90,000 sponsorship over three years to support the Cameco Creative Kids Northern Cultural Fund, which is offered as a program grant to local cultural organizations in northern Saskatchewan. In 2018, Cameco was unable to provide as much in support, so SaskCulture increased its support to $30,000 to ensure the program would continue – and the name was changed to the Creative Kids Northern Cultural Fund.
While community support helped provide funds for Creative Kids, the numbers of applications from families continued to grow quickly in 2017 and 2018. The administration required to support the program also needed to be increased. To address the growing demand for the program, SaskCulture increased the number of staff dedicated to Creative Kids: Creative Kids Coordinator (hired 2011), Creative Kids Assistant (hired 2012). The former Creative Kids Program Coordinator became the Creative Kids Fund Development Coordinator in 2017, and SaskCulture's Administration Manager took on the role as Creative Kids Manager.
Creative Kids was originally set up as part of the Give Kids a Chance (GKAC) charity run by Sask Sport Inc. However, operating under GKAC was more difficult for the partners due to Creative Kids particular needs. By September 2016, SaskCulture had established its own charity, Creative Kids Canada Inc., which was responsible for Creative Kids Saskatchewan. Also, to help ensure the safety of children participating in the program, in 2017, Creative Kids required all service providers have mandatory Criminal Record Checks done and submitted.
By 2019, the demand for Creative Kids had continued to peak. At this point, over $4.5 million had been raised to help over 10,00 Creative Kids, from over 200 different communities. Fundraising was increasingly difficult and more and more kids were not successful in obtaining needed grants.
In 2019, the Fundraising Development Coordinator position was eliminated and the Creative Kids Assistant position was vacated in early 2020, leaving only two positions to addressing Creative
Kids programming and fundraising. Other SaskCulture staff, including those in grants administration and communications, took on additional roles. The Administration Manager adjusted her role to take on more fundraising duties. While some of the large event fundraisers were not being held, successful events, such as Nourish, Vintage, the Holiday Campaign continued in 2019, until most activities had to be postponed due to with COVID-19 concerns in 2020.
In addition to the work with Creative Kids, in 2012, SaskCulture also joined its partners Sask Sport and Saskatchewan Parks and Recreation Association in supporting the Dream Brokers program in Saskatchewan. Dream Brokers work in community schools helping to link students to their interests in extra-curricular sports, culture and recreation activities. As of 2018/19, there are 11 Dream Brokers working in Regina, Saskatoon, North Battleford, Yorkton and Prince Albert. Each year, close to 200 students had the opportunity to participate in creative activates thanks to the Dream Brokers program. In 2018, Creative Kids began offering a program funding to specifically support group cultural programs coordinated through the Dream Brokers. This program continues today.