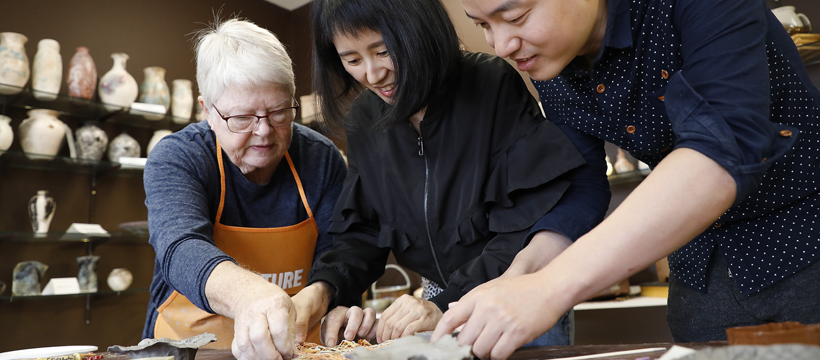 Volunteers
Volunteers are the life force of many cultural organizations in the province… and SaskCulture is no exception. From board directors to peer assessors, these volunteers continue to be integral to the growth and vitality of our organization.
Volunteering to support cultural activities or Saskatchewan's cultural organizations has many rewards.
---
Volunteer Board of Directors
SaskCulture is governed by a ten member, elected Board of Directors, who oversees the direction of the organization. Each year, at its annual general meeting, SaskCulture's voting members elect volunteer directors, nominated from the cultural sector, to fill vacant board positions.
If you are interested in volunteering for the SaskCulture Board of Directors, check out the nominations package.
---
Volunteer Peer Assessor
SaskCulture is responsible for ensuring that funding from the Culture Section of the Sask Lotteries Trust Fund for Sport, Culture and Recreation is used to support cultural activity in Saskatchewan. To do so, SaskCulture provides arms-length adjudication mechanisms, referred to as Peer Assessment Panels, for each of its funding programs.
The Volunteer Peer Assessors who make up these panels are selected from the various areas of the cultural community. They are all individuals have a solid understanding of the cultural community, demonstrated through their work and/or experiences, and are willing to give their time and energy to fairly assess each funding application and make well-informed decisions on how to invest funds from the Sask Lotteries Trust Fund.
Those willing to take on this unique and exciting challenge can learn more about volunteering as a peer assessor.
Recognizing Volunteers
Volunteers are the heartbeat of the cultural sector in Saskatchewan. There contributions build organizations, share cultural experiences, and strengthen communities. SaskCulture celebrates volunteers year round and highlights the work of these amazing individuals and teams throughout the network.