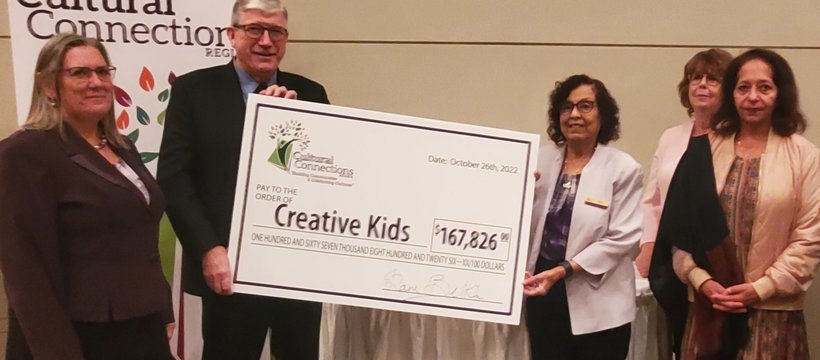 Creative Kids benefits from this year's India Night Gala proceeds
In this issue
Creative Kids
Cultural Connections Regina recognizes the importance of supporting children and youth, who face financial barriers, to participate in life-changing cultural activities. The growing need to help kids access these important creative pursuits, is why committee members chose Creative Kids to receive the funds raised from the 2022 India Night Gala.
Celebrating diversity, community and culture, the sold-out event of over 500 people took place on October 1, at the Delta Hotel in Regina. A record total of $167,826 was raised to support Regina kids facing barriers to participating in cultural activities and exploring their creativity.
"Not only did the Creative Kids mandate align with ours, it was really important that children have the opportunity to participate in creative activities as it builds confidence and self-esteem," said Dr. Renu Kapoor, chair, Cultural Connections Regina about the reasons why their committee chose Creative Kids. "Children shouldn't lose out on opportunities because of financial barriers and COVID was tough on charities."
Two years of isolation increased financial challenges for many Saskatchewan families and the province already saw one of the highest provincial child poverty rates in Canada. As of 2019 — the most recent numbers available — more than 73,500 children have limited access to essential daily needs and opportunities for positive growth and self-esteem.
Gloria Walsh, manager, Creative Kids Saskatchewan says, "That is why so many families cannot afford to put their children in a cultural activity such as music, dance, theatre, and art. Creative Kids believes participating in these kinds of activities are fundamental to the positive growth and development of children and youth, as well as, building confidence, self-esteem and a feeling of belonging."
Emily Tang can attest to the benefits as she received support for dance lessons when she was ten. "Because of dance, I became more body confident. The dance studio I went to was such a positive environment that I no longer felt insecure with the way I looked" she said. "Mentally, learning and mastering new dance skills made me apply the same perseverance and energy to everything I do now."
Walsh adds, "Receiving these funds will make a big difference for many Regina families. Our sincerest thank you to the Cultural Connections board, our generous sponsors, and supporters for changing lives and ensuring more Regina children will be able Grow, Shine and Belong."
About Cultural Connections
Cultural Connections, Regina Inc. (CCR) is a non-profit organization established by a culturally diverse group of dedicated and experienced event volunteers. CCR is dedicated to promoting cross-cultural awareness through a variety of cultural events while raising funds for grassroots charities in the Regina community.
About Creative Kids Saskatchewan
Creative Kids Saskatchewan was created in 2010 to remove financial and social barriers to arts and cultural activities for Saskatchewan children and youth four to 19 years of age. Since its inception, Creative Kids has granted over $5.38 million and helped more than 11, 659 kids in more than 241 communities across Saskatchewan explore their creative dreams through inclusion in arts and culture.