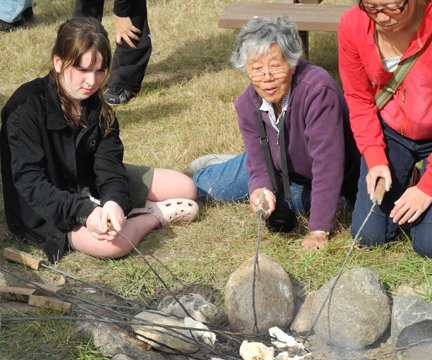 Culture Days: two years and growing
In this issue

Engage - Volume 2 Issue 4 Summer 2012
It only took two years for Culture Days to capture the imagination of people in cities and towns throughout Saskatchewan.
Inspired by this success, SaskCulture, along with many community organizers, is eager to keep Culture Days as a focal point for cultural celebration each year. An interest in cultural planning by five Saskatchewan communities has blossomed into an innovative regional partnership, which includes involvement in the Main Street pilot projects and increased community momentum. Culture Days in Saskatchewan, held the last weekend in September each year, continues to be part of the collaborative, pan-Canadian, annual movement that aims to raise awareness, accessibility, participation and engagement by all people in the cultural life of their local communities. It encourages community organizers to offer interactive cultural activities at no charge to the public during the Culture Days weekend. Getting people to express their creativity and "try something new" is seen as an opportunity to develop their interest and connections to the cultural community.

This past year, Culture Days in Saskatchewan, which took place September 26-30, increased in popularity, with 180 cultural activities, from 36 different Saskatchewan communities, registered in the national database, compared to the 130 activities registered in its first year. It is estimated that well over 7,000 people participated in Culture Days this past year. There was a total of 6,000 events registered across Canada, and well over one million people participating nation-wide.

A key component of Culture Days in Saskatchewan, and enduring highlight, is the Culture Days Animateur program. Last year, SaskCulture built on its Animateur model, hiring four Saskatchewan artists to use their talents and creativity to "breathe life and meaning" into the Culture Days promotions and activities.

Over a five month period, the Culture Days Animateurs met with close to 850 potential activity organizers, lead over 4,000 participants and in the end, helped to register 107 different Culture Days activities. Many of the Animateurs felt that the personal contact was integral to building relationships.

In 2011, SaskCulture also offered an additional funding to groups to help them hold their activities. These funds resulted in over 60 paid opportunities for Saskatchewan artists to engage others in cultural activity during Culture Days.

In 2012, Culture Days plans are already underway. Culture Days will take place September 28-30, 2012 in Saskatchewan and across Canada. Join the movement at www.skculture.sk.ca.