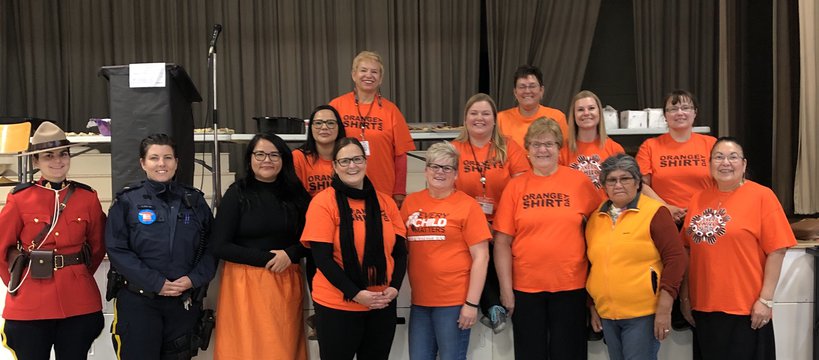 Reconciliation Nipawin Continues to Advance Understanding
What started in 2017 as a group of four, eager to address the Truth and Reconciliation commission's calls to action, has evolved into a dynamic group with 32 active members.
Reconciliation Nipawin is comprised of members working in post-secondary institutions, health care facilities, and school divisions, who come from the communities of Nipawin, Carrot River, Cumberland House, White Fox, Garrick and the Red Earth, Shoal Lake and James Smith Cree Nations.
"We all came together to get a better understanding of the Calls to Action as a whole, and decided we needed to take some personal responsibilities to implement the Calls and bring them into our work places, as well as the community at large," says co-chair Rhonda Teichreb.
Working together, the committee seeks guidance from Knowledge Keeper Sharon Meyer (Beardy's and Okemasis Cree Nation), as well as through its partnership with the Office of Treaty Commissioner. To support their efforts and raise awareness, the committee hosts a number of different events and activities in Nipawin and surrounding communities. Events include annual Reconciliation flag-raising days on National Indigenous Peoples' Day, community round dances, as well as working with schools interested in participating in Orange Shirt Day on September 30.
To further Reconciliation efforts, the committee began training community members to become Kairos Blanket Exercise facilitators. By early 2020, the group had successfully trained 36 people and had mapped out next steps to introduce the exercises to the larger community. Unfortunately, when the COVID-19 pandemic hit, the committee was pushed in a different direction and had to get creative with how they would continue this type of work.
According to Jan Boughen, committee member and primary health care manager, Saskatchewan Health Authority, "Reconciliation Nipawin had to shift focus a little bit, so we met with archaeologist Dr. David Meyer to learn more about the extensive Indigenous history of the area." In addition, the committee established partnerships with the Royal Saskatchewan Museum, SaskPower, the Métis Nation – Saskatchewan, and Heritage Saskatchewan and are planning to bring artifacts into the Nipawin museum that will aid in educating youth about Nipawin's Indigenous peoples and cultures.