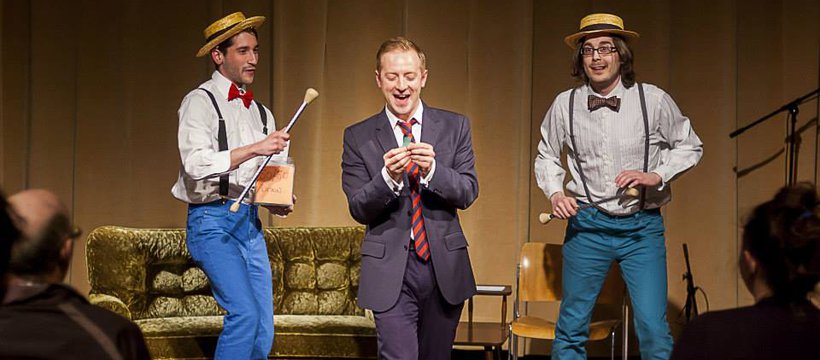 Red Hot Riot leads a fun evening of fundraising for Creative Kids
In this issue

Engage Volume 4, Issue 3, Summer 2014
Creative Kids teamed up four-time Canadian Comedy Award nominee Jayden Pfeifer, of the comedy variety show Red Hot Riot, for an evening of laughter, mayhem and music, with all of it contributing to a great cause.
On April 12th, various acts performed in front of a packed house of 140 people at Artesian Performance Venue in Regina. Red Hot Riot features an incredibly talented cast performing side-splitting, stand-up comedy, sketches, improvisation, and musical numbers featuring special guests – such as musical guest Orphan Mother, and Ed Minevich, Regina Symphony Orchestra Concertmaster.
According to Christie Nenson, fund development coordinator, Creative Kids, the show was completely sold-out. "There was a lot of good energy in the theatre that evening," she says, adding that the event was a great success, bringing in $7,467 to help create opportunities for Saskatchewan children and youth facing financial barriers to participation in cultural activities.
"The interview with Jayden [Pfeifer] and Ed Minevich was very funny," says Nenson. "Jayden also got a pie in the face from a women with the highest bid on a live auction item. Who doesn't love that old gag?"
Creative Kids is always looking to team up with organizations or individuals who are interested in organizing a Creative Kids fundraising event. "We have a great team of volunteers and staff who can help out where needed," explains Nenson. Since all of Creative Kids administration costs are covered by SaskCulture, 100 per cent of all funds raised at events go right back to the community to support Creative Kids participants.
Last year, over $36,000 was raised for Creative Kids from various fundraising events. According to Nenson, in most instances, funds raised can be directed to help out a specific community, or one of Creative Kids' five key areas of participation, such as music, dance, theatre, art and other cultural activities. Contact Christie Nenson at 306-780-9461 to find out more on how you can help support Creative Kids.