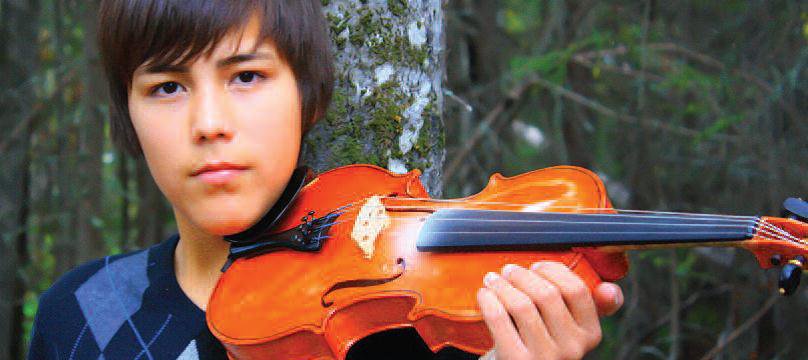 Rising star from the north
For those of you that think mastering the fiddle at 15 years old is an accomplishment, try playing one while balancing on stilts. Tristen Durocher of La Ronge, has been playing violin for the past five years. He says he decided to perform on stilts just because he could.

A performer at heart, Durocher refined many of his current skills and creative flourishes during his participation in the popular northern program Northern Spirits, coordinated through the Northern District for Sport, Culture and Recreation. He has participated in the program for the past two years and feels it has been a good opportunity to learn about performance and meet new people.

"I especially like performing on a big stage," says Durocher. This past year, he was part of the Northern Spirits group that performed at the E.A. Rawlinson Centre in Prince Albert. The Northern Spirits program, supported in part with funds from SaskCulture, was designed to help northern youth enhance their performance and stage management skills.

Last year, Durocher was able to meet and play the fiddle with well-known Saskatchewan Métis fiddler John Arcand. "He let me try playing on his fiddle," says Durocher, "and gave me some tips on playing different songs." Arcand, who is an experienced Luthier who has been making custom fiddles for years, gave Durocher one of his much sought-after home-made fiddles. Durocher says that he enjoyed the experience and appreciated the opportunity to play with this Saskatchewan legend.

Unfortunately, this prized fiddle was lost, or possibly stolen following an event in Regina. Thanks to his talent, skill and experience with Northern Spirits, Durocher continues to be booked to perform in a variety of Saskatchewan events, including the Lt. Gov.'s Garden Party held on Canada Day this past year. In 2009, he received the SaskTel Aboriginal Youth Award for Art in recognition of his accomplishments.

Durocher attends Churchill High School in La Ronge and has plans to continue performing and pursuing an arts career.