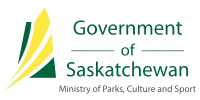 Introducing Leah Mertz - The 10th Saskatchewanderer
Musician, self-proclaimed digital fanatic and voiceover artist, Leah Mertz has officially been announced as the 2020 Saskatchewanderer.

Hailing from Saskatoon, Leah has plans to explore Saskatchewan and connect with the residents who make this province such a wonderful place to live and visit.

"I've always had an innate passion for storytelling and sharing people's voices no matter how big or small," 2020 Saskatchewanderer Leah Mertz said. "The people are what make this province great, and I will work closely with everyone I meet to honour Saskatchewan's cultural vibrancy, entrepreneurial spirit, vast diversity, and its beautiful landscape. I grew up on the prairies, and despite living all across Canada the past decade, I knew the prairies were where I was meant to be. More specifically, I knew Saskatchewan was where I was meant to be. I look forward to continuing the great work of the previous wanderers, and with your help, tell your stories and showcase this province like never before. It's 2020 and we're going big!"

"Now in its tenth year, the Saskatchewanderer program continues as a successful marketing strategy to showcase our province as a great place to live, work and play," Parks, Culture and Sport Minister and Minister Responsible for Tourism Saskatchewan Gene Makowsky said. "I look forward to following Leah on her journey to discovering unique Saskatchewan experiences including our provincial parks, food, beverage and tourism industries and the events that draw people to our communities annually."
"Saskatchewan is a remarkable place, and the Saskatchewanderer program brings widespread attention to the wealth of tourism experiences available in our province," Tourism Saskatchewan CEO Mary Taylor-Ash said. "It is a pleasure to welcome Leah as the 2020 Saskatchewanderer. Her curiosity and enthusiasm, combined with her background in content marketing and passion for exploration, will ensure that her stories resonate with tourists and residents alike."

For the first time, the Saskatchewanderer program welcomes a new title sponsor, Conexus Credit Union. Conexus is a Saskatchewan-based and owned co-operative, helping to improve the financial well-being of its members and communities. As a contributing sponsor, Conexus Credit Union will help ensure the program continues so that all great Saskatchewan stories can be told.

"Being from Saskatchewan, we know firsthand how amazing this province is," Conexus Credit Union Executive Vice President, Retail Banking Jacques DeCorby said. "From the people who live here, to the unique businesses across the province and a booming entrepreneurial ecosystem. The Saskatchewanderer Program helps to promote our diverse province and we're excited to partner with the program so they can continue sharing our province's story, and showing the rest of the world why Saskatchewan isn't just a place to be from, but the place to be."

CAA Saskatchewan is back in the driver's seat as the official vehicle sponsor. The Wanderer will be safer behind the wheel, thanks to CAA for providing a vehicle, a CAA Saskatchewan membership, and gas vouchers.

"For a decade, we've been a proud supporter of the Saskatchewander program," CAA Saskatchewan President and CEO Fred Titanich said. "We are pleased to be part of the 10th anniversary celebrations with Leah Mertz. With over 100 years' experience in the travel, insurance, automotive, and roadside assistance business, our experienced staff are here to assist Leah as she showcases all that Saskatchewan has to offer."

Follow Leah's year of wandering the province on Facebook, Twitter, Instagram or YouTube. Read up on her latest adventures by visiting www.saskatchewanderer.ca.