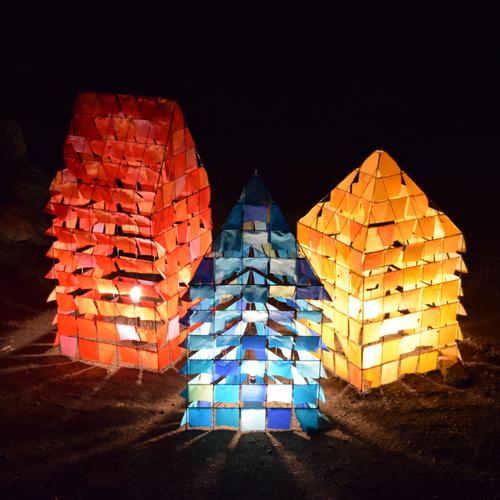 Au Relais 308, 4ème Avenue Nord
308, 4 ième Avenue Nord
Saskatoon SK
S7K 2L7
Treaty 6 Territory
Cost: $20
More Info
Special Event
Arts: Visual
Arts: Multidisciplinary
Multicultural
Sans-Atelier Welcomes Artist Sylvie Roussel-Janssens for a Residency in Saskatoon
Sans-Atelier Welcomes Artist Sylvie Roussel-Janssens for a Residency in Saskatoon
The artist will collaborate with the community on a work entitled Tout feu tout flamme

Sans-Atelier, Saskatchewan's collective of French-expression artists, is excited to welcome Sylvie Roussel-Janssens to Saskatoon as the Vancouver artist prepares to present a new, community-minded work entitled Tout feu tout flamme. The residency is presented as part of Contextualisations, a residency exchange program administrated by the Réseau Nord-Ouest, a group which works to unite groups of francophone artists in northern and western Canada. Roussel-Janssens will be in Saskatoon March 18-31 to work on this project; the community are invited to contribute to the creation of the sculpture March 20th at Le Relais from 5 to 7 p.m.

Tout feu tout flamme is an æolian sculpture which reflects on time in all its forms: the date, the seasons, and also the use of the French word "temps" to refer to the weather. The public will be invited to modify and decorate small textile squares, which the artist will scavenge and upcycle around the city, and which will compose the body of the sculpture. The final work will be on display at an evening of enlightened reading at La Troupe du Jour on March 30 at 7:30 p.m.

Parole Illuminées is a collaboration between Sans-Atelier and La Troupe du Jour, where a play will take place illuminated by Sylvie's work.
More Info
Au Relais 308, 4ème Avenue Nord
308, 4 ième Avenue Nord
Saskatoon SK
S7K 2L7
Cost: $20
Organizer
Accessibility
Wheelchair Accessible
Safe and Inclusive Space