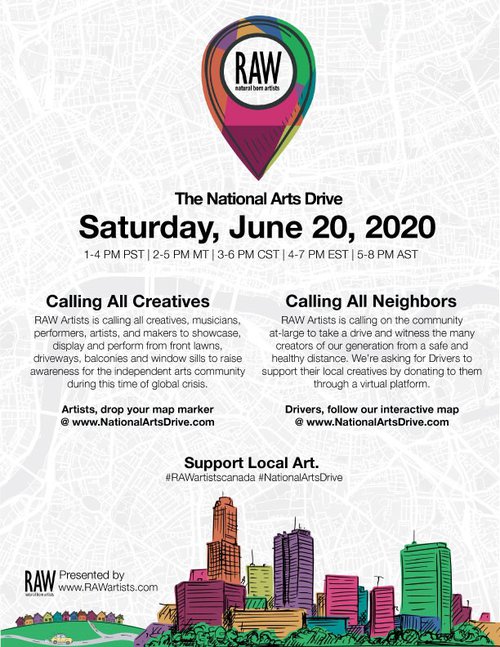 2020
Jun 20
3:00 PM — 6:00 PM
Regina, citywide
Citywide
Aberdeen SK
Cost: Free
Register
Special Event
Arts: Visual
Arts: Multidisciplinary
Arts: Music
RAW Artists Canada Presents the National Arts Drive
The National Arts Drive is an online & offline grassroots movement and campaign to bring awareness and financial support to Canadian artists.
On Saturday, June 20, 2020, we're inviting artists across Canada to showcase and perform from front lawns, driveways, balconies, and stoops.
We're inviting attendees to drive, walk or bike through suburban streets and city blocks to witness their creative neighbours.
The experience is paired with a mobile site and an interactive map that marks each art installation or performance. Drivers can donate from their car directly to the artist (Venmo, Paypal, etc).
This is completely free for both artists and drivers. Our goal is for artists to receive direct funding from the public.
For more info and to sign up visit
www.NationalArtsDrive.com
Register
2020
Jun 20
3:00 PM — 6:00 PM
Regina, citywide
Citywide
Aberdeen SK
Cost: Free
Organizer