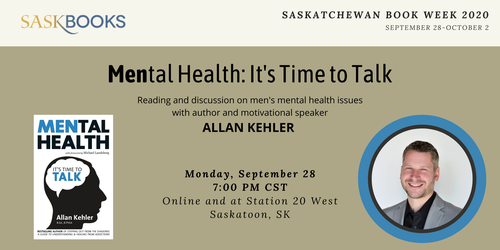 2020
Sep 28
7:00 PM — 8:30 PM
Cost: 20.00
Includes a copy of MENtal Health
Register
Artist/Author Talk
Arts: Literary
MENtal Health: Allan Kehler Book Week Micro-Reading
Motivational speaker and mental wellness advocate, Allan Kehler, will be reading from his book, MENtal Health (Your Nickel's Worth Publishing, 2020), which focuses on men's mental health issues, at Station 20 West on September 28 at 7:00 pm CST.

The small, socially-distanced "micro-reading" will only have twenty seats available. Due to COVID-19 procedures, this event requires mandatory pre-registration and for all of the attendees to wear a mask. The purchase of your ticket reserves your spot and also comes with a copy of MENtal Health.*

The event will also be live-streamed on SaskBooks' Facebook page and a video recording will be made available at a later date.

*If you already have a copy of the book, you may request a different book of up to $19.95, published by one of SaskBooks' Members. If the cost to attend this event presents an economic barrier, please contact SaskBooks for subsidized attendance.

When you arrive at the venue, the host will require registration confirmation and will ask a series of COVID-19 screening questions.

MENtal Health: It's Time to Talk tells the true stories of prairie men—including Chris Beaudry, former assistant coach of the Humboldt Broncos—who have persevered through various mental health challenges. Together, they put a voice to topics including masculinity, mental illness, addiction, sexual abuse, and suicide. When it comes to mental health, too many men are suffering in silence.
These men speak out in raw honesty because they understand that the conversation doesn't start until someone starts talking. The silence has been broken. The time to talk is now.

Allan Kehler has learned valuable life lessons, from his own mental health issues and substance use, that have guided him on an incredible path of success. Allan is one of Canada's most sought-after speakers when it comes to the topic of mental health and wellness. He has stood on more than 500 stages and is recognized for his engaging style and captivating approach.

Allan's professional experiences include instructing various mental health related course at several colleges. He also spent years working as an addiction counselor and clinical case manager. Drawing from both professional and personal experiences, Allan confidently conveys how to create a safe, compassionate, and supportive environment that proactively addresses issues of mental wellness. He offers a unique style to effectively speak to these very sensitive issues using humor, compassion, and authenticity.

Allan is a best-selling author of four books, with Stepping Out from the Shadows: A Guide to Understanding & Healing from Addictions, and Born Resilient being incorporated into college curricula in Canada. He has also been featured on several television and radio programs, yet it is his recognition as a professional speaker that has gained Allan the most national attention.
Register
2020
Sep 28
7:00 PM — 8:30 PM
Cost: 20.00
Includes a copy of MENtal Health
Organizer
Accessibility