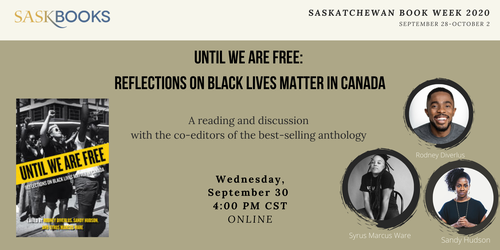 2020
Sep 30
4:00 PM — 5:30 PM
Cost: Free
Register
Artist/Author Talk
Arts: Literary
Until We Are Free: Reflections on BLM in Canada -Reading & Discussion
On Wednesday, September 30, the co-editors of Until We Are Free: Reflections on Black Lives Matter in Canada (U of R Press, 2020), will read from their anthology and discuss the book in the context of the current socio-political climate.

The virtual reading will take place online on Wednesday, September 30th at 4:00 pm CST.

Pre-register for the reading and have your name entered to win a copy of Until We Are Free!

Until We Are Free contains some of the very best writing on the hottest issues facing the Black community in Canada. It describes the latest developments in Canadian Black activism, organizing efforts through the use of social media, Black-Indigenous alliances, and more. Quill and Quire explained, "Until We Are Free stands as a necessary work that is bound to become central to dialogues in the areas of social justice and global liberation."

Sandy Hudson is the founder of the Black Lives Matter movement presence in Canada and Black Lives Matter – Toronto. Sandy also helped to found the Black Legal Action Centre, a specialty legal aid clinic, which provides direct legal services and test case litigation for Black communities in Ontario. Currently studying law at UCLA with a specialization in critical race theory, Sandy also co-hosts the Sandy and Nora Talk Politics podcast, and is co-editor of the best-selling contributed volume, Until We Are Free: Reflections on Black Lives Matter in Canada.

Syrus Marcus Ware is a Vanier Scholar, a visual artist, community activist, researcher, youth-advocate and educator. For 12 years, he was the Coordinator of the Art Gallery of Ontario Youth Program. Syrus is currently a facilitator/designer for the Cultural Leaders Lab (Toronto Arts Council & The Banff Centre). He is the inaugural artist-in-residence for Daniels Spectrum (2016/2017). Syrus is also a core-team member of Black Lives Matter Toronto.

Rodney Diverlus is a Black, Haitian, community organizer, facilitator, professional dancer, choreographer, and storyteller. He is a cofounder of Black Lives Matter-Toronto, a local chapter of the #blacklivesmatter movement.
Register
2020
Sep 30
4:00 PM — 5:30 PM
Cost: Free
Organizer
Accessibility