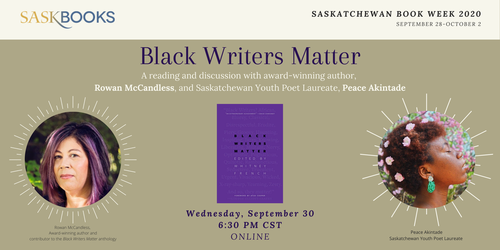 2020
Sep 30
6:30 PM — 8:00 PM
Cost: Free
Register
Artist/Author Talk
Arts: Literary
Multicultural
Multicultural: Anti-racism
Black Writers Matter: Peace Akintade and Rowan McCandless Reading
Join us for an evening with award-winning author Rowan McCandless and Saskatchewan Youth Poet Laureate Peace Akintade. Rowan will be reading her contribution to the anthology Black Writers Matter (University of Regina Press, 2019) and Peace will be reading several poems. The readings will be followed by a discussion around being Black writers on the prairies and navigating the publishing industry.

The virtual reading will take place online on Wednesday, September 30th at 6:30 pm CST.

Pre-register for the reading and have your name entered to win a copy of Black Writers Matter!

Rowan McCandless is the daughter of multiple diasporas and aims to give voice to the experience of people living on the margins, navigating between worlds, ideas and ideals, and the artificial, social construct called race. Rowan is the winner of the National Magazine One of a Kind Storytelling Award and is a contributor to the anthology Black Writers Matter.

Peace Akintade is an African-Canadian poet, spoken word artist and sought-after public speaker living in Saskatoon. She is the co-coordinator of Write Out Loud, which is a Saskatoon-based youth poetry community, and a board member of Tonight It's Poetry. Her poems touch on the impact of slavery in her village, colorism, growing up in Kuwait, Nigeria and Canada, and relearning her culture in the face of colonization.
Register
2020
Sep 30
6:30 PM — 8:00 PM
Cost: Free
Organizer
Accessibility