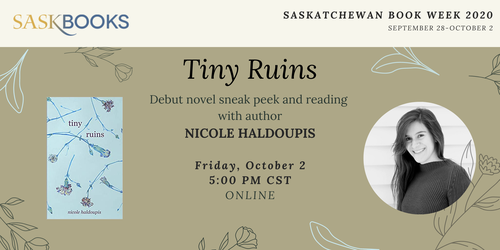 2020
Oct 02
5:00 PM — 6:30 PM
Cost: Free
Register
Artist/Author Talk
Arts
Arts: Literary
Tiny Ruins: Nicole Haldoupis Book Week Sneak Peek and Author Reading
Nicole Haldoupis will be doing a sneak peek reading from her forthcoming, debut novel, Tiny Ruins (Radiant Press, 2020).

The virtual reading will take place online on Friday, October 2nd at 5:00 pm CST.

Pre-register for the reading and have your name entered to win a copy of Tiny Ruins, after its release in October!

Tiny Ruins is a coming-of-age and coming out story that follows Alana, as she grows up, and navigates a perplexing and sometimes hostile world. Her sister is both her constant companion and tormentor, and Alana is desperate for her approval. This book is for anyone who ever stood alone at the edge of the playground and longed to be included.

Nicole Haldoupis is a queer writer, editor, and designer from Toronto. She's a co-creator and editor of untethered, editor of Grain, and co-founder of Applebeard Editions. Her work can be found in Bad Dog Review, The Feathertale Review, Bad Nudes, (parenthetical), Sewer Lid, antilang, and others. Tiny Ruins is her first book.
Register
2020
Oct 02
5:00 PM — 6:30 PM
Cost: Free
Organizer
Accessibility