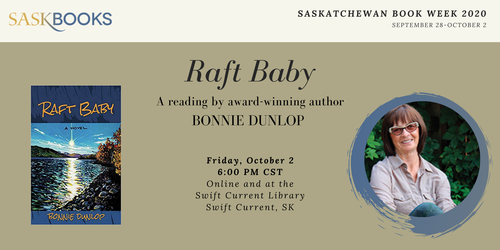 Artist/Author Talk
Arts
Arts: Literary
Raft Baby: Bonnie Dunlop Micro-Reading for Book Week 2020
Bonnie Dunlop will be doing a "micro-reading" of her novel, Raft Baby (Thistledown Press, 2020), an historical novel set in the Peace River country in the early 1900's. The reading will take place on October 2 at 6:00 pm CST at the Swift Current Public Library.

The small, socially-distanced "micro-reading," will have only fifteen seats available. Due to COVID-19 procedures, this event requires pre-registration and for the attendees to wear a mask. Register through Eventbrite or call SaskBooks at 306-780-9811 or the Swift Current Library at 306-778-2752.

The event will also be live-streamed on SaskBooks' Facebook page. A video recording of the reading will be released at a later date.

Bonnie Dunlop is at home in several genres — fiction, poetry and memoir. She is the author of two short story collections, The Beauty Box, winner of the Saskatchewan First Book Award (2004), and Carnival Glass (2008), which was also nominated for a SBA. Dunlop lives under the endless skies of Swift Current, Saskatchewan, but shares an affinity with the Peace River area of Alberta. As she tells it, her uncle moved to the Peace River country from Saskatchewan in the dirty thirties. Trips to the Peace River country loom large in her childhood memories although, in reality, "how many times would my entire family drive 18 hours on less than stellar roads for a visit?" When her uncle died, his roots deep in the Peace, there was a clipping in his effects titled "Raft Baby of the Peace River." Her cousin sent her the clipping and suggested it would make a great novel. She read the clipping and set it aside for ''sometime later." That sometime later is now.

Raft Baby is a sprawling historical novel set in the Peace River country in the early 1900s, a period and a place that tested the mettle of all who came there. The novel is complex and layered, with multiple narrators and interwoven stories. Its main story, though, is the mystical tale of a young girl straddling two worlds in ways of which she is not always aware, with elements of love, sacrifice, greed, envy, heartbreaking sorrow, and unexpected twists in plot. The novel is set mostly in the past and chronicled through various voices that tell of the Raft Baby's amazing journey. We also hear directly from the Raft Baby herself, both at the beginning of the novel and at the end. Her voice is vital, true, and clear and it validates the novel's history and circumstances in the gentlest of ways.
Organizer
Accessibility
Wheelchair Accessible
Safe and Inclusive Space