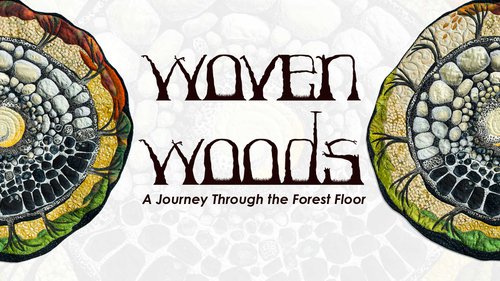 2020
Dec 06
1:00 PM — 2:00 PM
Cost: Free
Register
Artist/Author Talk
Arts
Arts: Visual
Arts: Multidisciplinary
Talking Craft with Lorraine Roy
Join us as Lorraine Roy discusses her touring exhibition, Woven Woods.

Woven Woods: A journey through the Forest Floor is a collection of colourful round fabric wall hangings by Ontario artist, Lorraine Roy. Each textile work depicts forest trees connected by their roots. In varying ways, each describes how tree communication is a fundamental part of a thriving ecosystem, where all individual elements contribute to support the whole.

Raised in rural Southwestern Ontario, Lorraine Roy completed an Honours B.Sc. in Horticultural Science before opting for a professional career in art textiles. Kindled by an early love of hand-embroidery, she eventually learned to 'paint' with fabric using her sewing machine. All her work explores connections between art, science and nature, and most of her imagery is inspired by the biology, mythology and cultural impact of trees, classic symbols of our connection with the natural world.
Register
2020
Dec 06
1:00 PM — 2:00 PM
Cost: Free
Organizer
Accessibility