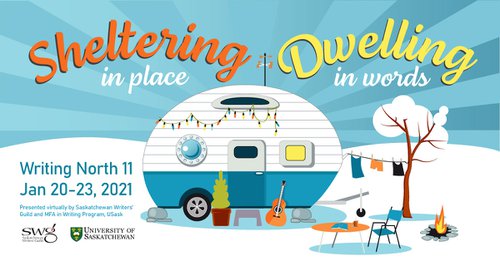 Festival
Arts
Arts: Multidisciplinary
Arts: Literary
Writing North 11
The Saskatchewan Writers Guild and University of Saskatchewan's MFA in Writing Program are excited to present the Writing North 11 festival from January 20-23, 2021! The festival's theme, "Sheltering in Place, Dwelling in Words," recognizes the importance of books and words in our homes during these time. All events are free of charge and will be hosted virtually via Zoom. Participants can attend the following events:
Keynote Address by Anne Michaels on January 20th;
Interactive Session with Barbara Langhorst on January 21st;
Writing North Book Club: Read the North Panel on January 22;
Interactive Session with Lisa Moore on January 23; and
Virtual Writer-in-Residence with Katherine Lawrence and Sarah Ens from January 20-23.
For the full event schedule, more festival details, and how to register for each event, please visit the Facebook page @writingnorth or our website at
www.skwriter.com