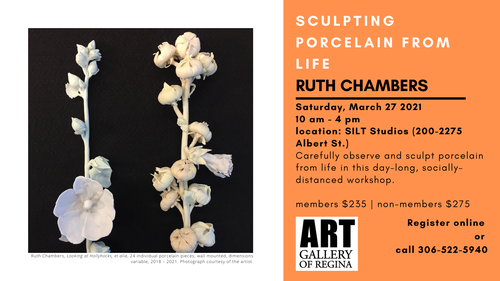 2021
Mar 27
10:00 AM — 4:00 PM
SILT Studios
200-2275 Albert St
Regina SK
S4P 2V5
Treaty 4 Territory
Map
Cost: 275
includes specially-prepared porcelain and kiln fees; AGR members receive $40 discount
Buy Ticket
In-Person Workshop: SCULPTING PORCELAIN FROM LIFE WITH RUTH CHAMBERS
Date: Saturday, March 27
Time: 10 am - 4 pm (1-hour lunch break)
Location: SILT Studios, 200-2275 Albert St
Fee: $235 members, $275 non-members
Register ONLINE or call 306-522-5940

Observation is the foundation of creation. Professor Ruth Chambers invites beginner and experienced ceramic artists to carefully observe and sculpt porcelain from life conveying sensitivity, amplifying empathy for the still life subject, and appreciating the sensual tactility of this delicate material in this day-long workshop held at SILT studios.
Learn the specialized methods developed over years of experimentation developing a special formulation of porcelain that has delicacy and strength and is prepared in such a way that it is malleable and resilient enough to sculpt by hand.
Workshop fee includes specially-prepared porcelain and kiln costs to dry and fire participants' completed pieces. Pieces will not be glazed and re-fired, instead participants will learn how to colour their sculptures by incorporating stain pigments into the clay body itself.
Please observe social distancing protocols, wear a mask and follow sanitation procedures.
workshop offered in partnership with SILT Studio, Regina.
Buy Ticket
2021
Mar 27
10:00 AM — 4:00 PM
SILT Studios
200-2275 Albert St
Regina SK
S4P 2V5
Map
Cost: 275
includes specially-prepared porcelain and kiln fees; AGR members receive $40 discount
Organizer
Accessibility
Wheelchair Accessible
Safe and Inclusive Space