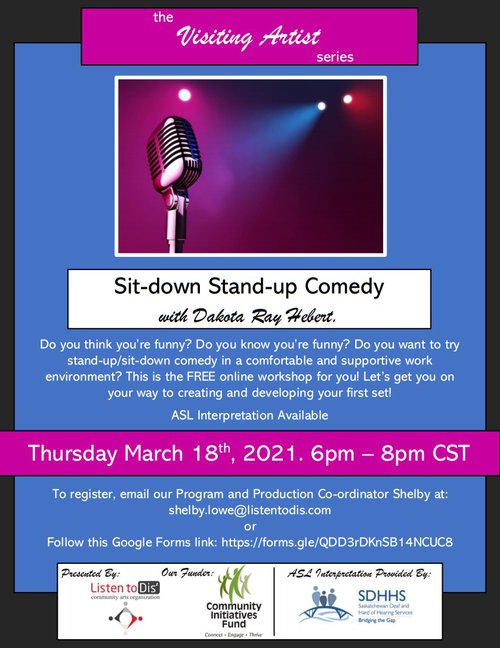 2021
Mar 18
6:00 PM — 8:01 PM
Cost: Free
Register
Workshop
Arts
Arts: Multidisciplinary
Other
Visiting Artist Series - Stand-Up Sit-Down Comedy with Dakota Ray Hebert
This March 18th, 2021 from 6pm until 8pm CST, Listen to Dis' Community Arts Organization will be hosting as part of our Visiting Artist Series an online comedy workshop. "Stand-Up Sit-Down Comedy" with Saskatoon, Saskatchewan based comedian Dakota Ray Hebert!
Do you think you're funny? Do you know you're funny? Do you want to try stand-up/sit-down comedy in a comfortable and supportive work environment? This is the FREE online workshop for you! Let's get you on your way to creating and developing your first set!
**ASL Interpretation Provided by the Saskatchewan Deaf and Hard of Hearing Services (SDHHS)**
Thank you to our funder, Community Initiatives Fund. Without you, there is no us!
To register, follow this Google Forms link:
https://forms.gle/QDD3rDKnSB14NCUC8
or
email our Program and Production Coordinator Shelby at
shelby.lowe@listentodis.com
if that is more accessible to you.
Register
2021
Mar 18
6:00 PM — 8:01 PM
Cost: Free
Organizer
Accessibility
Deaf / Hard of Hearing
Sight Impairment
Safe and Inclusive Space