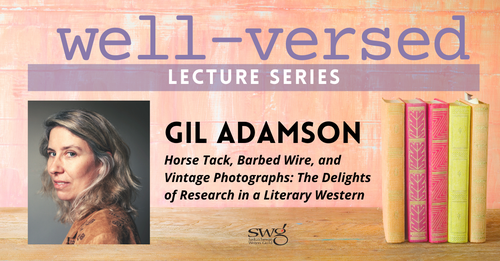 2021
Apr 21
7:00 PM — 8:15 PM
Cost: Free
Register
Artist/Author Talk
Arts
Arts: Literary
Other: Partners
Well-Versed: A Lecture featuring Gil Adamson
The Saskatchewan Writers' Guild is excited to present Well-Versed: A Lecture Series. This virtual series, presented between February – June 2021, hosts well-established Canadian writers who will speak about what they have learned as a writer. Our second lecture will feature Gil Adamson, in conversation with host Marina Endicott.

"Horse Tack, Barbed Wire, and Vintage Photographs: The Delights of Research in a Literary Western"
What does historical research mean for a work of fiction? What happens when you find a detail you want to use but it means your story must take a different direction? In conversation with fellow historical novelist Marina Endicott, Gil Adamson will talk about the rigours of writing historical fiction and how to hide your research, as well as how to be open to those unexpected discoveries along the way that give the story life.
Register
2021
Apr 21
7:00 PM — 8:15 PM
Cost: Free
Organizer
Accessibility
Deaf / Hard of Hearing
Safe and Inclusive Space