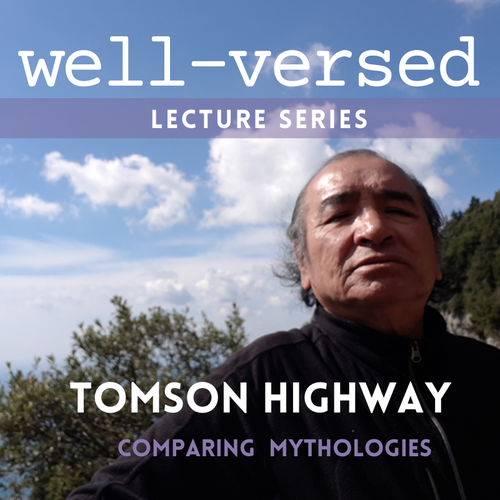 2021
Jun 09
7:00 PM — 8:15 PM
Cost: Free
Register
Artist/Author Talk
Arts: Literary
Well-Versed lecture with Tomson Highway
In "Comparing Mythologies," Tomson will address the topic of mythology and how it has affected, and continues, to affect world literature. What is myth? Where did it come from? Why is the place that mythology occupies situated at the exact halfway point between truth and lie, between non-fiction and fiction and, most significantly, between science and religion? Following his lecture, Tomson will discuss these issues with host Jesse Archibald-Barber and answer audience questions.
Tomson Highway is a Cree writer/musician from northern Manitoba. His best-known works are the plays, the Rez Sisters and Dry Lips Oughta Move to Kapuskasung as well as the best-selling novel, Kiss of the Fur Queen. He lives in Gatineau, Quebec.
Host Jesse Archibald-Barber is from Regina, oskana kâ-asastêki, and is of Cree, Métis, and Scottish heritage. He is a professor of Indigenous Literatures at the First Nations University of Canada.
Full bios and talk description can be found at
www.skwriter.com
.
Register
2021
Jun 09
7:00 PM — 8:15 PM
Cost: Free
Organizer
Accessibility