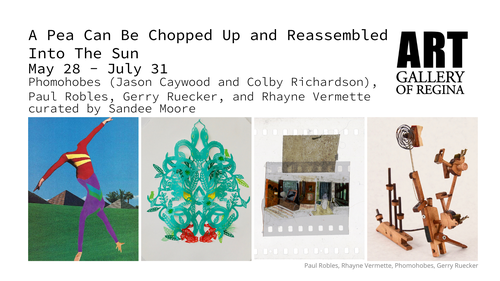 Art Exhibition
Arts: Visual
​A Pea Can Be Chopped Up and Reassembled Into The Sun
A Pea Can Be Chopped Up and Reassembled Into The Sun
May 28 - July 31, 2021
Phomohobes (Jason Cawood and Colby Richardson), Paul Robles, Gerry Ruecker, and Rhayne Vermette
curated by Sandee Moore
​A Pea Can Be Chopped Up and Reassembled Into The Sun dispels the notion of collage as crafty kid stuff and instead invites appreciation for the radical creativity and cultural critique inherent in this cut-up technique.
What does it mean to cut up a pea and reassemble it into the sun? Curator Sandee Moore seized upon a theorem in set-geometry to provide a quirky and illustrative analogy to explain collage as a generative process. The Banach-Tarski paradox in geometry is often informally stated as "a pea can be chopped up and reassembled into the sun." While cutting up and reassembling a ball to increase its volume confounds basic geometric intuition, the notion that the blade is not destructive but rather creative is familiar magic to collage artists.
The four artists and collectives in A Pea Can Be Chopped Up and Reassembled into the Sun hearken back to the radical roots of collage. Collage, and its cousins montage, photomontage and assemblage, appropriate and re-contextualize popular messages. For example, early 20th Century avant-garde artists such as Hannah Höch and John Heartfield transformed propaganda into anti-fascist political satire. Later, 1960's pop artists such as Richard Hamilton recombined advertising images to reflect the oppressive ideals of domesticity, gender and capitalist consumption. Today's collage artists continue to skew norms and uncover new ways of thinking about the world produced by illogical juxtaposition.
Online Opening Reception: Friday, May 28 7 - 9 PM
Broadcast on FacebookLive on the Art Gallery of Regina's Facebook page:
https://www.facebook.com/228399860562366/posts/3993014167434231/
Organizer
Accessibility
Wheelchair Accessible
Safe and Inclusive Space