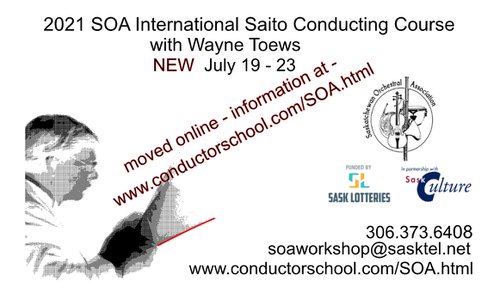 2021 SOA International Saito Conducting Course
Hideo Saito's analysis of conducting gestures provides the key to conducting with precision and artistry. In particular. his discovery of the secondary point and identification of From-point gestures are not taught elsewhere. Join the community of conductors who have used these ideas at the highest level.
On July 19 & 20 instruction will be primarily for participants who are new to the Saito method using
Saito studies 1, 2, 3 and 4 plus supplementary works. Two pianists will play the pieces.
On July 21-23 instruction will be for those who participated on July 19 & 20 and others who have
participated in a previous workshop. Saito studies 5, 6 (part), 7 & 8 (part), plus a wide variety
supplementary works will be studied. During the mornings two pianists will play the pieces. In the
afternoon on those days the pianists will be joined by a 9-piece string orchestra.
The July 19 session will be free of charge for SOA members. An SOA membership costs CAD$25.
On July 20th the rate for SOA members is $95 or an early bird rate of $75.
SOA membership can be obtained via the website at
http://saskorchestras.com
July 21 – 23 CAD$115 per day or all three for $295 Early bird rate - $250
All five days - CAD$400 Early bird rate - $350