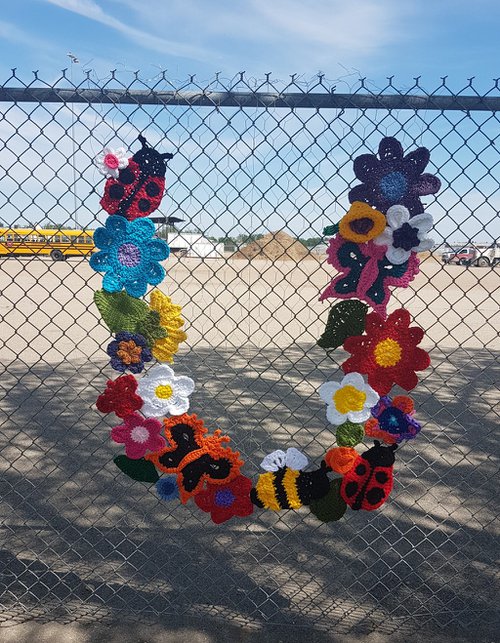 Gallagher Centre
455 Broadway St W
Yorkton SK
S0A 3N0
Treaty 4 Territory
Cost: Free
More Info
Special Event
Arts
Arts: Visual
Arts: Multidisciplinary
Yorkton Yarn Bombing
Under the guidance of local artist Michelle Easton the Yorkton Arts Council is re:imagining an outdoor utilitarian space as a garden, the Gallagher Centre Fence on Broadway Street West.
During the past year filled with COVID restrictions many people have taken up new hobbies including crochet and knitting now is your chance to join in the fun! We have developed of a series of patterns to be used to create flowers, leaves and bugs to incorporate into our re: imagined fence scape.
In addition to making the patterns available we created series of instructional videos that would demonstrate how to create the flowers, leaves, from the patterns. Yarn kits with hooks, yarn, patterns and video links are available for pick up at the Yorkton Public Library at 93 Broadway Street West.
Get busy creating your creature and install it on the fence for Culture Days 2021!
More Info
Gallagher Centre
455 Broadway St W
Yorkton SK
S0A 3N0
Cost: Free
Organizer
Accessibility
Wheelchair Accessible
Safe and Inclusive Space