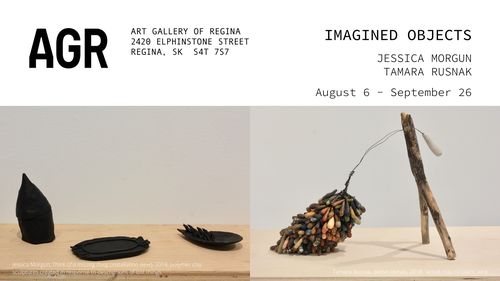 Art Exhibition
Arts
Arts: Visual
Imagined Objects: Jessica Morgun and Tamara Rusnak
The Art Gallery of Regina presents tactile sculptures and evocative drawings by Saskatchewan artists Jessica Morgun and Tamara Rusnak in the exhibition Imagined Objects from August 6 to September 26, 2021. Lumpy, worn, rubbery, creased, incised, weighty: the tactile detail that the artists have lavished upon their creations makes their imagined objects corporeal and substantial. Morgun's work, in particular, resurrects items lost-to-time as recalled by Regina citizens.
Assisted by the Art Gallery of Regina, Morgun interviewed local community members this past February about their lost belongings. She asked participants to describe the lost thing, concentrating on non-visual senses. Working from these descriptions, Morgun then sculpted a replacement for the absent object. The resultant stoneware monuments to lost belongings are poignant and absurd. Rather than explaining away these mysterious forms, poetic snippets of interviews conducted by the artist heighten the enigma of her project for the Art Gallery of Regina, Think of a Lost Thing. 
On the other hand, Rusnak creates without even the guide of a transient memory; she intuitively sculpts and draws ingenious tools that have never existed, including creating new works on-site for her exhibition at the Art Gallery of Regina. 
A narrow ceramic funnel is upended on four inadequate-looking legs, each no bigger than a cigarette, its stem arches like a delicately searching proboscis. This sculpture, Signal, like many others in Imagined Objects, is animated by its artful grubbiness and touching awkwardness. 
Rusnak accompanies her sculptures, assembled from humble materials such as papier-mâché, wire and clay, with a series of drawings that evoke educational wall charts. The artist organizes these ambiguous shapes according to some unfathomable taxonomy within a lustreless rectangle of colour.
​
Neither artist intends to answer the question "what is it?" but to spark countless responses in viewers' imaginations. Arouse your curiosity about the artists' imagined objects and items we interact with every day by visiting Morgun and Rusnak's exhibition; admission to the Art Gallery of Regina is always free.
Register online to attend the opening reception and be guided through the exhibition by the artists from 4:00 - 7:00 p.m. on Friday, August 6.
https://www.artgalleryofregina.ca/upcoming-exhibition
Organizer
Accessibility
Wheelchair Accessible
Safe and Inclusive Space