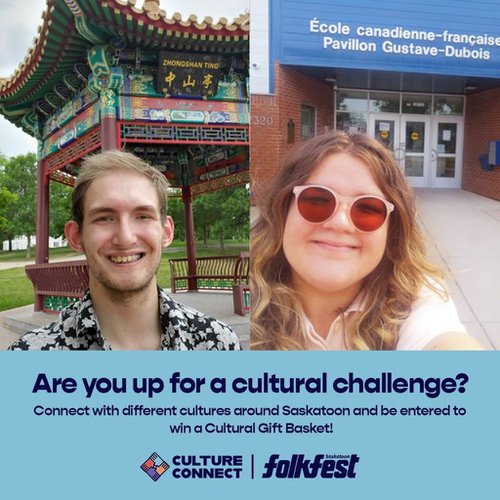 Saskatoon SK
Treaty 6 Territory
Cost: Free
More Info
Special Event
Heritage
Multicultural
Saskatoon Folkfest Photo Quest
Are You Up For A Cultural Challenge?
The Folkfest Photo Quest is a fun all-ages activity that will have Folkfesters taking to the streets of Saskatoon and connecting culture with sites around the city.
The Quest consists of 19 locations around Saskatoon. Every location represents the cultural influence of one of the many diverse communities that exist within our city.
To participate, follow the Photo instructions and answer the corresponding Quest for every location you visit. The more locations you visit the more chances to win! Use our Full Guide or Quick Print List to organize your Photo Quest adventure.
Facebook and Instagram - For a valid entry, tag Saskatoon Folkfest @stoonfolkfest and use the hashtag #cultureconnect. Include the Quest answer as the caption for your post.
By Email - To submit your entry, email
saskatoonfolkfest@gmail.com
Send your Photos along with the Quest answers to gain qualifying entries.
At 5 submitted Photo Quests you gain your first draw entry. At 10 you gain a second entry and at 15 you gain a third. If you complete all 19 Photo Quests, you will receive five total entries!
Qualifying submissions will be entered to win a Cultural Gift Basket! The winners will be connected via the platform they entered on!