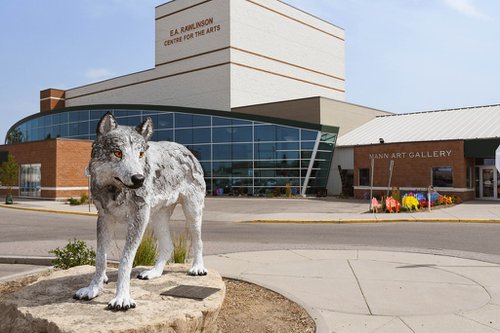 2021
Oct 21
7:00 PM — 8:30 PM
Mann Art Gallery
142 12th St W
Prince Albert SK
Treaty 6 Territory
Cost: Free
More Info
Diana Chabros Artist Talk & Closing Reception
Join us for an artist talk with artist Diana Chabros at the closing reception of her exhibition, samskāra, in the main gallery. Diana will lead us through her series of paintings which thematically focuses on energy, the repetitive patterns humans undertake, and the interrelationships of land and animals. Engage in a Q & A with her to learn more about her work.
Diana Chabros is home based in Val Marie Saskatchewan. One of the most fragile eco-systems in the world, the prairie grasslands in southwest Saskatchewan are constantly at risk for development as they harbour tremendous volumes of fossil energy, and other energy resources. Each of the paintings in samskāra is a portal into the dynamic play of grassland with climate and human intervention. This exhibition will provide viewers with an opportunity to reflect on their personal relationship with nature, their own samskāras, and to question both the 'fictions' and the 'facts', the wild and the domesticated, and the fragility and vastness of the area. Please visit
www.dianachabros.com
to learn more.
Covid 19 policies: Visitors are entering the Mann Art Gallery at their own risk, and are encouraged to wear masks. Please sign the guest book for contact tracing purposes. Food and drink will be served. Hand sanitizer and disposable masks will be provided, and increased sanitation of high-touch areas is in effect.
More Info
2021
Oct 21
7:00 PM — 8:30 PM
Mann Art Gallery
142 12th St W
Prince Albert SK
Cost: Free
Organizer