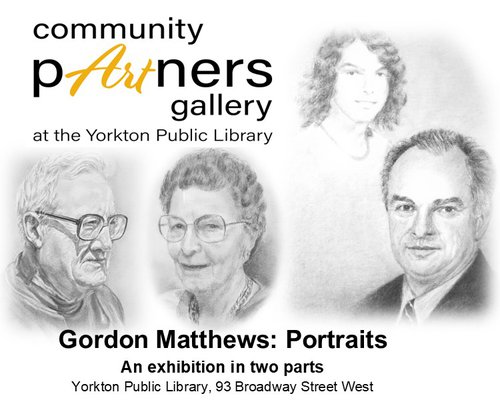 Yorkton Public Library
93 Broadway Street West
Yorkton SK
S3N 0L9
Treaty 4 Territory
Cost: Free
More Info
Art Exhibition
Arts: Visual
Gordon Matthews: Portraits - An exhibition in two parts
This fall from September 4—November 24, 2021 the Community pARTners Gallery located in the Yorkton Public Library will feature the collected portraits by local artist and retired educator Gordon Matthews. The first exhibition running from September 4—October 7 is mainly comprised of portraits that Matthews has drawn of former Yorkton Regional High School students. The second exhibition from October 16—November 24, 2021 will feature local community leaders, teachers, athletes, clergy and others.
Gordon is a retired educator who practiced portraiture throughout his career.
In his 96years Gordon has maintained a keen interest in portraiture, taxidermy, restoration of antique cars travel and history which resulted in the writing of An Exodus to a Land of Promise published in 2018.
More Info
Yorkton Public Library
93 Broadway Street West
Yorkton SK
S3N 0L9
Cost: Free
Organizer
Accessibility