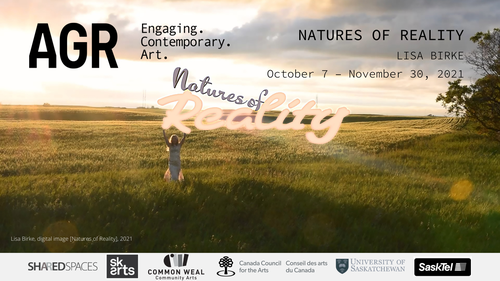 Art Exhibition
Arts: Visual
Arts: Media
Lisa Birke: Natures of Reality
Lisa Birke: Natures of Reality
October 7 – November 30, 2021
opening reception: October 7, 6-8 PM (register to attend in-person or view online)

How is meaning created? Digital media, both personal and mass communications, has proliferated in recent years, especially during the COVID-19 pandemic. Saskatoon-based artist Lisa Birke's immersive video installation Natures of Reality reflects on media, meaning and mortality in various mediated formats: special effects-enhanced footage, animated content, augmented reality, and a catalogue of scenes enhanced with moving CGI text.

Birke's videos alternately invite audiences into a reflective experience of profound and fleeting encounters with the natural world, blast with slick artifice and empty platitudes, and reward with genuine stories of discovering meaning. The artist created the latter series in collaboration with community members who fashioned paper avatars that she then animated using motion capture technology to speak their words.

Gallery visitors are encouraged to piece together a personal narrative encounter with Natures of Reality by wandering between video monitors and triggering augmented reality experiences on their cell phones.

Natures of Reality includes animations created in collaboration with the following community members: Angel Hayden, Brita Lind, Claire Yacishyn, Damian Thomas, Dawn Thomas-Cameron, Deborah A. Stevens, Hani Rukh E Qamar, Joely BigEagle-Kequahtooway, Julie Gobeil, Kamilla Wolk-Lind, Karishma Joshi, Keshia Katie Hanson, Nicole Gaddie, Precious Tushabe-Torr, shimby,and Yvonne Niegas.
Organizer
Accessibility
Wheelchair Accessible
Safe and Inclusive Space