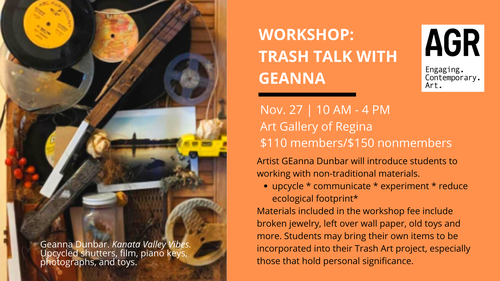 2021
Nov 27
10:00 AM — 5:00 PM
Neil Balkwill Civic Arts Centre Printmaking Studio
2420 Elphinstone Street
Regina SK
S4P 3C8
Treaty 4 Territory
Map
Cost: 150
members' price: $110
Buy Ticket
Workshop
Arts
Arts: Visual
Trash Talk with Geanna
Trash Talk with Geanna
Instructor: Geanna Dunbar
Date: November 27, 2021
Time: 10 AM - 4 PM
Location: In-person (NBCAC Printmaking Room)
Cost: $110 members/$150 nonmembers
In this workshop, Trash Talk, Geanna will introduce students to working with non-traditional materials to build layers. Students will broaden their concepts of suitable materials to be upcycled for their projects, creating art using non-conventional methods while reducing their ecological footprint.
The workshop will introduce the concept of "Trash Art," covering techniques and tips from idea to completed artwork. Materials included in the workshop fee include broken jewelry, left over wall paper, old toys and more. Students may bring their own items to be incorporated into their Trash Art project, especially those that hold personal significance.
Shadow boxes and canvases will not be provided. Students wishing to create a shadow box or canvas must supply their own, otherwise materials are included in the workshop fee.
​Register online, here:
https://www.eventbrite.ca/e/trash-talk-with-geanna-tickets-200451966227
or call 306-522-5940.
About the instructor:
Geanna Dunbar is a Cree-Metis mixed media, spoken word artist, body piercer and tattooer from Regina, Saskatchewan. She works in mixed media collage, sculpture, acrylic, street art, chalkboard and window painting, and her poetry often reflects real life issues and art. With a special interest in sustainable art and interdisciplinary community collaboration, Geanna often sets personal challenges that help her grow and deepen her relationship with her environment and others.
Buy Ticket
2021
Nov 27
10:00 AM — 5:00 PM
Neil Balkwill Civic Arts Centre Printmaking Studio
2420 Elphinstone Street
Regina SK
S4P 3C8
Map
Cost: 150
members' price: $110
Organizer
Accessibility
Wheelchair Accessible
Safe and Inclusive Space