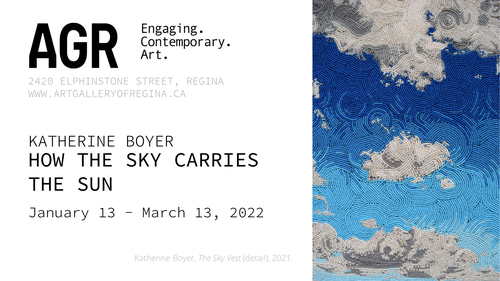 Art Exhibition
Arts: Visual
Indigenous: Métis
Katherine Boyer: How the Sky Carries the Sun
Like the artist herself, nothing in this exhibition is just one thing. Textiles and roof trusses, botanical silhouettes, a cloudy sky rendered in seed beads, and hooked rugs: these are the laboriously created artworks through which Boyer connects place and the lived experience of her body. Each stitch, knot, plant and architectural construction in her solo exhibition, How the Sky Carries the Sun at the Art Gallery of Regina (2420 Elphinstone Street) is an intimate record of her research.
Opening Reception Thursday, January 13 7:00 - 9:00 p.m.
Reservation required to attend the opening reception; capacity limited to 20 people/hour. Register by visiting:
https://www.artgalleryofregina.ca/current-exhibition
Reservation not required to visit the gallery during regular hours: Mondays-Thursdays 11 am - 7 pm and Fridays-Sundays 1-5 pm. Proof of vaccination or negative COVID-19 test result required for entry to the building. Masks must be worn indoors at all times.
Organizer
Accessibility
Wheelchair Accessible
Safe and Inclusive Space