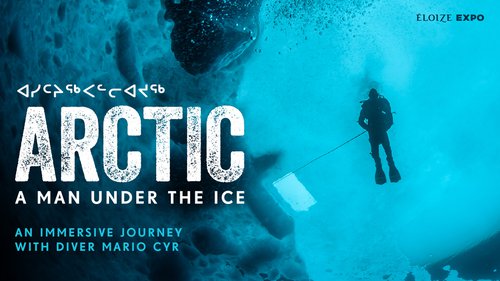 Midtown Plaza
201 1 Ave S
Saskatoon SK
S7K 1J9
Treaty 6 Territory
Map
Cost: $27.99 - $43.99
Student, Senior and Family Rates Available
Buy Ticket
Special Event
Arts: Media
Heritage
Arctic: A Man Under The Ice
ARCTIC: A Man Under The Ice will premiere in Saskatoon as the first stop outside of its home province of Quebec, and on the way to an international tour across Canada, United States and Europe. The show will run in Saskatoon from April 21th – May 29th and will be located at Midtown Plaza in downtown Saskatoon.

The immersive exhibition ARCTIC: A Man Under The Ice, with internationally acclaimed wildlife and underwater cinematographer Mario Cyr, invites the audience on a journey to a mysterious and almost-inaccessible place: the Canadian Arctic. As they travel through images taken from Mario's expeditions, visitors will be drawn into the breathtaking beauty of the spectacular landscapes. Polar bears, walruses, narwhals, sea angels and large marine mammals cross his path. Witnessing the magnificence of these endangered landscapes and the creatures that inhabit them, visitors will also become aware of their fragility. Visitors experience the feeling of being on a real expedition to a world that few people will ever visit.

The experience is officially supported and endorsed by The Ocean Decade, a global UNESCO program that seeks to stimulate ocean science and knowledge generation to reverse the decline of the state of the ocean system and catalyze new opportunities for sustainable development of this massive marine ecosystem. This immersive exhibition was designed and produced by Lilli Marcotte and Benoit Landry based on an original idea by Jeannot Painchaud in conjunction with Éloize Expo.
Buy Ticket
Midtown Plaza
201 1 Ave S
Saskatoon SK
S7K 1J9
Map
Cost: $27.99 - $43.99
Student, Senior and Family Rates Available
Organizer
Accessibility
Wheelchair Accessible
Deaf / Hard of Hearing