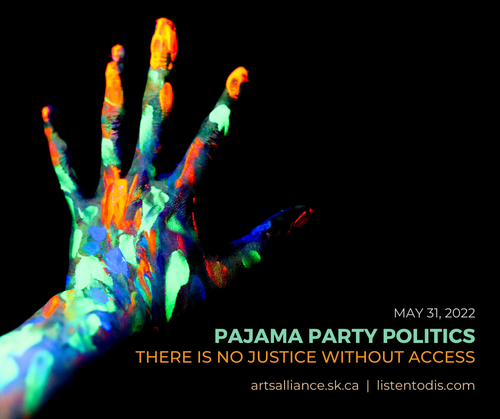 2022
May 31
10:00 AM — 12:00 PM
Cost: Free
Register
Special Event
Arts
Arts: Multidisciplinary
Other: Other
Pajama Party Politics: There is no justice without access
Disability is often perceived through the lens of those observing and exploiting disabled people. The art sector is no exception. The barriers to exist and the injustice within our arts spaces are insidious in Saskatchewan.

Listen to Dis' (LTD') and the Saskatchewan Arts Alliance (SAA) invite you to take part in a cultural conversation on May 31 about why it's important we all, as artists and cultural workers, both independently and as part of organizations, do the work to catch up and keep up with the current understanding of access and accommodation with and for the Deaf/disabled community.

The event will feature three local crip cultural leaders who have taken their broken heart and made art as a way of belonging and also feature Guest Artist interruptions.

Everyone is welcome and we invite you to come as you are – just as you are – whether in pajamas on the couch, or comfy in your office.
Register
2022
May 31
10:00 AM — 12:00 PM
Cost: Free
Organizer
Accessibility
Wheelchair Accessible
Deaf / Hard of Hearing
Sight Impairment
Safe and Inclusive Space