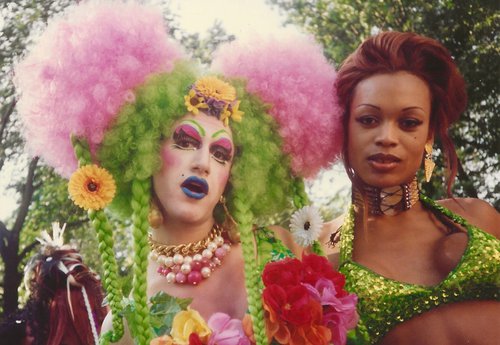 2022
Aug 25
7:30 PM — 11:00 PM
MacKenzie Art Gallery
3475 Albert St.
Regina SK
S4S 6X6
Treaty 4 Territory
Map
Cost: $10-$15
$10 in advance, $15 at the door
Buy Ticket
Art Exhibition
Arts: Visual
The Drag Explosion
The Drag Explosion is multi-talented Linda Simpson's photographic tribute to NYC's drag scene of the 1980s and the 90s and has been presented internationally at art spaces, theaters and colleges since 2012, and has spawned two books, PAGES (Peradam, 2013) and The Drag Explosion (Domain, 2021).
During the years covered by The Drag Explosion Linda hobnobbed with a camera, which was a rare thing to do back then. Although she was a complete amateur, she got tons of great shots—wild nightlife, queer activism, pop-culture moments and all sorts of colorful characters. Ultimately, her photos document the rise and fall of a golden era that paved the way for today's drag renaissance.
The Drag Explosion's earliest photos date back to the gritty East Village where Linda joined a kooky and avant-garde underground scene that revolved around the Pyramid Club and the outdoor drag festival Wigstock.
As drag's popularity gained steam, drag queens galore and their club kid comrades went on to conquer NYC's pulsating nightlife, including the Limelight, Palladium and other mega-clubs.
By 1992, the mass media came calling. Gender-bending suddenly became the latest fad and Gotham's drag sorority emerged as pop-culture darlings. Never before had drag culture reached such incredible heights. It was a Drag Explosion that still resonates today.
Text adapted from Linda Simpon's website
www.thedragexplosion.com
Buy Ticket
2022
Aug 25
7:30 PM — 11:00 PM
MacKenzie Art Gallery
3475 Albert St.
Regina SK
S4S 6X6
Map
Cost: $10-$15
$10 in advance, $15 at the door
Organizer
Accessibility
Wheelchair Accessible
Sight Impairment
Safe and Inclusive Space