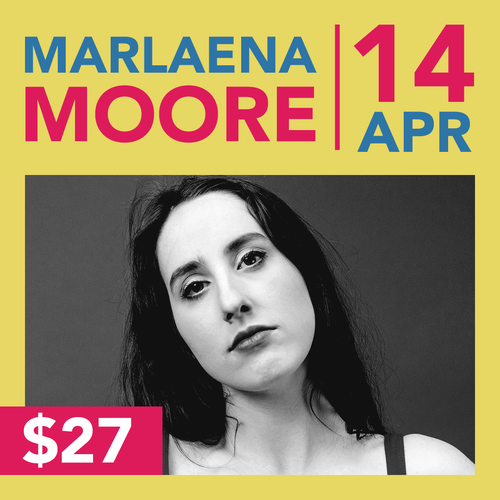 The Lyric Theatre
227 Central Ave N
Swift Current SK
Treaty 4 Territory
Cost: 25
General Admission, all ages, rush seating. Buy before October 1st and save new PST.
Buy Ticket
Blenders Presents Marlaena Moore
You'd be hard-pressed to find another artist with as brilliantly clear a trajectory as Marlaena Moore. From her earliest days of solitary bedroom recordings through the maximalist sonic explorations of her last album Pay Attention, Be Amazed, to the laser-focused sound of her newest work, charting a course through her career to date is about as tangible as it gets.
Originally hailing from Edmonton, Alberta, and currently based in Montreal, Moore has become one of Canada's preeminent songwriters and performers, rightfully recognized for a commanding, yet warmly engaging stage presence in tandem with her superbly crafted and emotionally direct – even disarmingly so, at times – brand of songwriting. to wit, Consequence of Sound praised her "powerful vocal range and sturdy songs...her music did more than charm." She's shared stages with acts such as Angel Olsen, US Girls, and Jennifer Castle, and Exclaim! listed Moore as an "Artist To Watch" in 2020.
After gaining traction in the late '10s with her celebrated album Gaze, Marlaena Moore joined forces with Sub Pop recording artist and cherished indie iconoclast Chad Van Gaalen and drummer/producer Chris Dadge to record her next album Pay Attention, Be Amazed.
If there is a theme to Moore's latest batch of songs, it would have to be the notion of openness: in life, in music, and in one's approach to viewing the world around them. Indeed, one of the tracks from her new album, tellingly titled 'I Love Everything', opens with the line "you can do anything, you can go anywhere". But, these seemingly positive affirmations didn't arrive in a gleam of bright light; Moore admits that "the record was written at a time where I was equally the most sad and most happy I have ever been in my life", battling the polarizing notion that "both nothing and everything is possible". Where these dichotomies could have resulted in stagnation, or – even worse – giving up entirely, Moore more than rose to the occasion and has crafted yet another surefooted, engaging set of pop/rock gems.
Marlaena Moore is an enigmatic performer with an incredible presence and soaring voice. Her songs cross personal bedroom confessionals with grunge influenced guitar tones in a tight pop-song package.
Catch Marlaena Moore April 14, 2023 at Blenders! Tickets are $25 until October 1st, 2022, $27 after with the new PST, and are available at Swift Current Pharmasave or online at
eventbrite.com
. Doors at the Lyric Theatre will open at 7:30pm and the music begins at 8:30pm.
Buy Ticket
The Lyric Theatre
227 Central Ave N
Swift Current SK
Cost: 25
General Admission, all ages, rush seating. Buy before October 1st and save new PST.
Organizer
Accessibility
Wheelchair Accessible
Sight Impairment
Safe and Inclusive Space