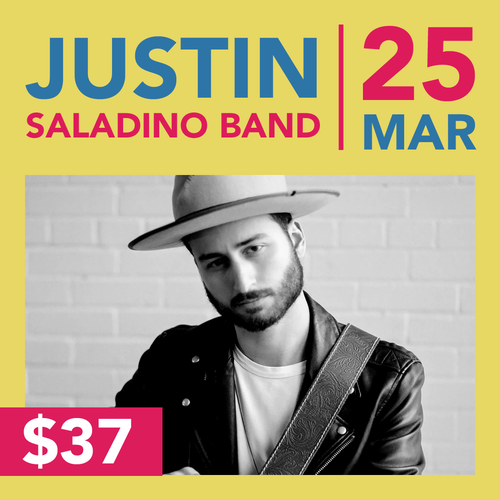 2023
Mar 25
8:30 AM — 11:00 AM
The Lyric Theatre
227 Central Ave N
Swift Current SK
Treaty 4 Territory
Cost: 35
General Admission, all ages, rush seating. Buy before Oct 1st and save the new PST.
Buy Ticket
Blenders Presents Justin Saladino Band
Homegrown Montrealer, Justin Saladino leads a guitar-driven group that can be referred to as - roots-rock, contemporary blues, or anything from funky to country with one tune to the next. What is for certain, anything JSB will include powerful guitar playing, sultry vocals, and genre-blending compositions that are uniquely Justin's own signature. Firmly backed by the foundation of Denis Paquin and Gabriel Forget, the explosive core trio has brought their much-acclaimed albums No Worries, A Fool's Heart, and JSB Live to stages across Eastern Canada.
Through the turbulence of the pandemic, Justin unearthed some truly remarkable songs exploring fresh territory for JSB. This second and upcoming full-length studio album - Honest Lies was produced by Ariel Posen at Tone Bender Studio in Montreal with an all-star team. It was worth every ounce of anticipation.
In 2018, the 21st annual Maple Blues Awards nominated the group for New Artist of the Year. The following year, Blues and Roots Radio acknowledged JSB's country-crossover tune, "Third Week Of June," as 2018 Song of the Year under the group category.
JSB Live was recorded over two nights in front of an audience of loyal fans at Quebec's largest recording facility, Piccolo Studios. "Six musicians, two shows and 11 songs... I'm proud of that," says Justin fondly of the group's new recording. The album is a true, live music experience and fan acknowledgment, feeding a desire for a live record. With the addition of an electric take on Tom Petty's "You Don't Know How It Feels", JSB Live delivers a diverse setlist of the band's history to date.
Their rich history has informed the 10,000 hours of experience reflected when Justin and his band steps on stage. Live shows capture the band in full bloom, an experience you don't want to miss.
You don't want to miss Justin Saladino March 25th, 2023 at Blenders! Tickets are $35 until October 1st, $37 after with the new PST, and are available at Swift Current Pharmasave or online at
eventbrite.com
. Doors at the Lyric Theatre will open at 7:30pm and the music begins at 8:30pm.
Buy Ticket
2023
Mar 25
8:30 AM — 11:00 AM
The Lyric Theatre
227 Central Ave N
Swift Current SK
Cost: 35
General Admission, all ages, rush seating. Buy before Oct 1st and save the new PST.
Organizer
Accessibility
Wheelchair Accessible
Sight Impairment
Safe and Inclusive Space