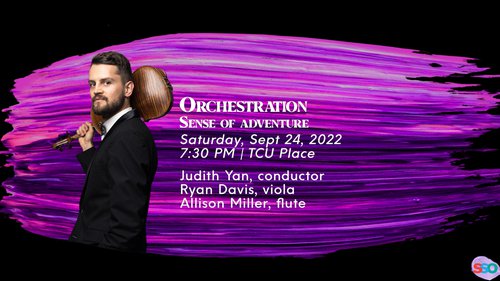 2022
Sep 24
7:30 PM — 9:30 PM
TCU Place, Sid Buckwold Theatre
35 22 St E
Saskatoon SK
S7K 0C8
Treaty 6 Territory
Cost: Varies
Includes admission to the concert
Buy Ticket
Orchestration - Sense of Adventure
Judith Yan, conductor
Ryan Davis, viola
Allison Miller, flute

Up to Her Waist in Lupins – Christos Hatzis*
Viola Concerto in G minor – Cecil Forsyth
Symphony No. 2, Op. 30 – Ruth Gipps

Excitement | Curiosity | Joy

An epic musical adventure of discovery that you must experience live.

Maestra Judith Yan leads your orchestra in our new commission by composer Christos Hatzis in honour of our flute emeritus, Randi Nelson. This world premiere features our very own Principal Flute Allison Miller showcasing her exceptional artistry in this new work by the world renowned Hatzis.

Saskatoon's own Ryan Davis returns home to make his SSO debut with his very favourite piece of music, Cecil Forsyth's Viola Concerto. Never heard of it? Trust us you're going to wonder why you've been missing out!

The real adventure begins when we dive into the cinematic soundscape of Ruth Gipps' 2nd Symphony. Gipps captures lightning in a bottle with this one movement work that acts an affair with your imagination.

We're certain that no one in the room will have heard this music performed before…forget what you know and jump in with both feet.
Buy Ticket
2022
Sep 24
7:30 PM — 9:30 PM
TCU Place, Sid Buckwold Theatre
35 22 St E
Saskatoon SK
S7K 0C8
Cost: Varies
Includes admission to the concert
Organizer
Accessibility
Wheelchair Accessible
Safe and Inclusive Space