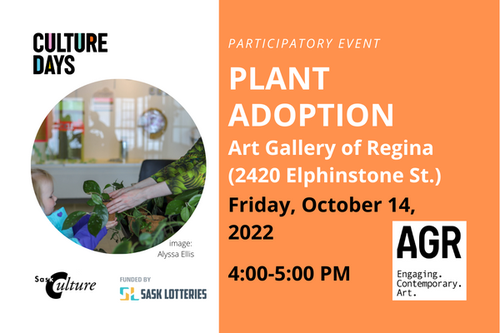 2022
Oct 14
4:00 PM — 5:59 PM
Cost: Free
More Info
Special Event
Arts: Visual
Live Performance: Plant Adoption
Live Performance: Plant Adoption

Friday, October 14, 2022

4:00 - 5:00 PM

Art Gallery of Regina Main Gallery

Artist and horticulturalist Alyssa Ellis invites the public to care for plants rescued and rehabilitated from dumpsters with her relational aesthetics artwork Plant Adoption.

The terms of the plant adoption contract vividly and viscerally underscore the burden of care and the long-term relationship that must evolve between plant and human; people must bring a vessel to house the plant to the gallery. A plant could be planted in a non-traditional container, such as a jacket pocket or a travel mug, but the plant parent must agree to maintain the plant in this container for its life.

Plants are available for adoption on a first-come, first-served basis.
More Info
2022
Oct 14
4:00 PM — 5:59 PM
Cost: Free
Organizer
Accessibility
Wheelchair Accessible
Safe and Inclusive Space