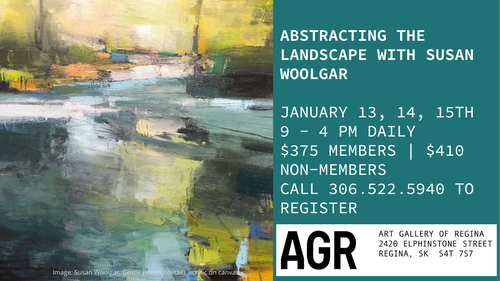 Eastview Community Centre
615 6th Ave, Regina
Regina SK
S4N0A9
Treaty 4 Territory
Map
Cost: $375 - $410
$375 for AGR members; $410 for non-members
Buy Ticket
Abstracting the Landscape: Masterclass with Susan Woolgar
Abstracting the Landscape: Masterclass with Susan Woolgar
(Rescheduled)
DATES: January 13, 14, & 15, 202
TIMES: 9 AM - 4 PM, daily
VENUE: Eastview Community Centre, 615 6th Ave, Regina
COST: $375 Members | $410 Non-members
The Art Gallery of Regina is thrilled to announce the return of our in-person Masterclass Workshops. Susan Woolgar, an accomplished artist and teacher, will lead this year's masterclass: Abstracting the Landscape. She will challenge masterclass participants to change how they perceive the world around them. Exercises in colour theory, expressive mark-making, and design will awaken inspiration and enable artists to interpret the landscape personally and dynamically. Daily demonstrations, studio painting and drawing, concept and technique discussions and one-on-one support are central to this workshop. Be prepared to dive deep into colour, experiment and have a great time!
ABOUT THE INSTRUCTOR
Susan Woolgar graduated from the ACA in 1977 with a Diploma of Applied Arts and Visual Communication. Starting her career as a Designer/Illustrator, Susan worked with various firms establishing her reputation and expertise. After leaving the advertising business in the early 1980s, Susan focused on her career as a Fine Art Painter and Instructor. Susan continues to explore her artistic expression and love of teaching in various media, including acrylic, pastel, mixed media and watercolours. Her most recent works have a more contemporary focus. Her "Abstracting the Landscape" explorations have met with critical acclaim by her contemporaries and her client base.
See the Art Gallery of Regina's website for more information, including a supplies list:
https://www.artgalleryofregina.ca/workshops
Buy Ticket
Eastview Community Centre
615 6th Ave, Regina
Regina SK
S4N0A9
Map
Cost: $375 - $410
$375 for AGR members; $410 for non-members
Organizer
Accessibility
Wheelchair Accessible
Safe and Inclusive Space