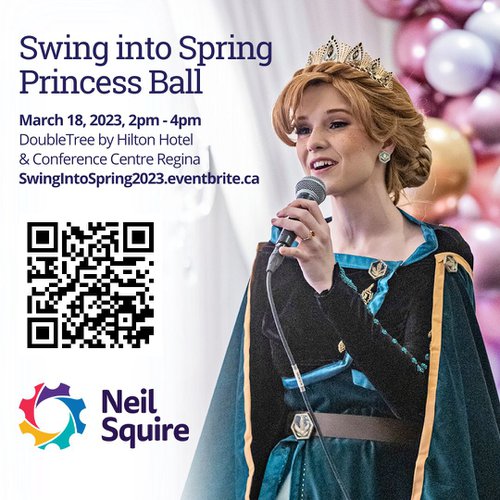 2023
Mar 18
1:00 PM — 4:00 PM
DoubleTree by Hilton Hotel & Conference Centre Regina
1975 Broad Street
Regina SK
S4R 7V1
Treaty 4 Territory
Fundraiser
Indigenous: All
Other: Other
Neil Squire Society 3rd Annual Swing Into Spring Princess Ball
Neil Squire's third annual Swing into Spring Princess Ball fundraising event will take place on March 18th at the DoubleTree by Hilton Hotel and Conference Centre in Regina. All proceeds from this event will go directly to Neil Squire's Prairie Regional Office to support Canadians with disabilities.

Tickets to the event include a Prince and Princesses procession, storytime with the Princes and Princesses, performances, music, dancing, group photos, crafts, goodie bags, autographs, and lunch. Other activities (for minimal additional costs) include hair sessions, raffles, a 50/50 draw, and photography. Tickets can be purchased at: SwingIntoSpring2023.eventbrite.ca.

If you are unable to attend the event, but you would like to provide support, you may select the "Donate a Ticket" option. Your purchased ticket will be donated on your behalf to a child with a disability who may not have the means to attend themselves.
2023
Mar 18
1:00 PM — 4:00 PM
DoubleTree by Hilton Hotel & Conference Centre Regina
1975 Broad Street
Regina SK
S4R 7V1
Organizer
Accessibility
Wheelchair Accessible
Safe and Inclusive Space