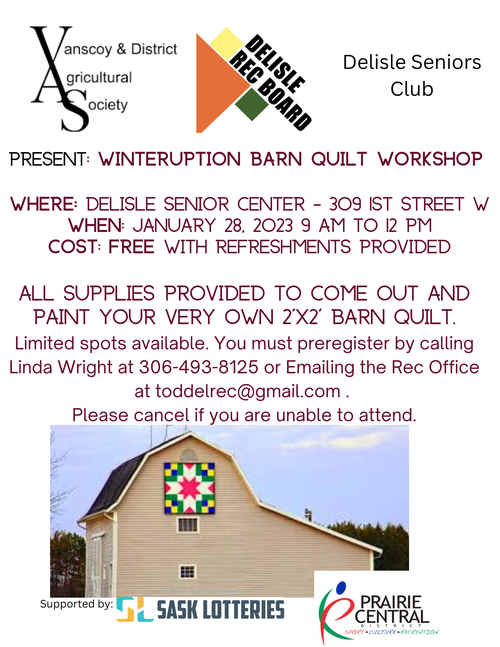 2023
Jan 28
9:00 AM — 12:00 PM
Delisle Seniors Centre
309 1st Street West
Delisle SK
S0L 0P0
Treaty 6 Territory
Cost: Free
Workshop
Arts: Media
Heritage
Winteruption Barn Quilt Workshop
The Vanscoy & District Ag Society, Delisle & District Recreation & Delisle seniors have partnered to bring a barn Quilt Workshop to town. At this workshop, you will have the opportunity to create your very own 2'x2' barn quilt. We are trying to preserve the heritage arts from long ago, and once again have barn quilts displayed in our area.
You must pre-register by calling Linda Wright at 306-493-8125 or emailing the Rec Office at
toddelrec@gmail.com
. Please cancel if you are unable to attend.
2023
Jan 28
9:00 AM — 12:00 PM
Delisle Seniors Centre
309 1st Street West
Delisle SK
S0L 0P0
Cost: Free
Organizer
Accessibility
Wheelchair Accessible
Safe and Inclusive Space