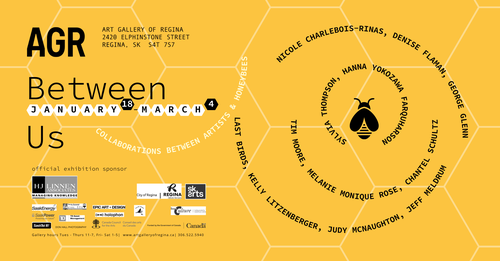 Art Gallery of Regina
2420 Elphinstone St
Regina SK
S4T 7S7
Treaty 4 Territory
Cost: Free
Art Exhibition
Arts: Visual
Arts: Multidisciplinary
Arts: Media
Between Us
Between Us: Nicole Charlebois-Rinas, Denise Flaman, George Glenn, Last Birds, Kelly Litzenberger, Judy McNaughton, Jeff Meldrum, Tim Moore, Melanie Monique Rose, Chantel Schultz, Sylvia Thompson, Hanna Yokozawa Farquharson​

Between Us is an exhibition of artworks – drawings, sculptures and sound art – resulting from inter-species collaboration between artists and honeybees.

What lies between us?

In the case of the artists in this exhibition and their mentor, vast prairie distances lie between them. In the fall of 2019, internationally renowned artist Aganetha Dyck proposed mentoring Saskatchewan artists to create artwork with honeybee collaborators. Although Dyck resides in Winnipeg, she became an artist while living in Prince Albert, Saskatchewan.

Working with gallery contacts in Prince Albert, Swift Current, Estevan and Yorkton, Art Gallery of Regina curator Sandee Moore invited twelve artists and collectives from across the province to learn from Dyck.

"Between Us" refers to the distances and differences between us and what we, as humans and insects, have in common.

Just as bees bridge gaps with honeycomb, the outcomes of this multi-year project join artists, beekeepers, honeybees and audiences in a shared process of learning and wonder.

This exhibition has been generously sponsored by HJ Linnen Associates.
The residency portion of Between Us was funded by Canada Council for the Arts.
Art Gallery of Regina
2420 Elphinstone St
Regina SK
S4T 7S7
Cost: Free
Organizer
Accessibility
Wheelchair Accessible
Safe and Inclusive Space