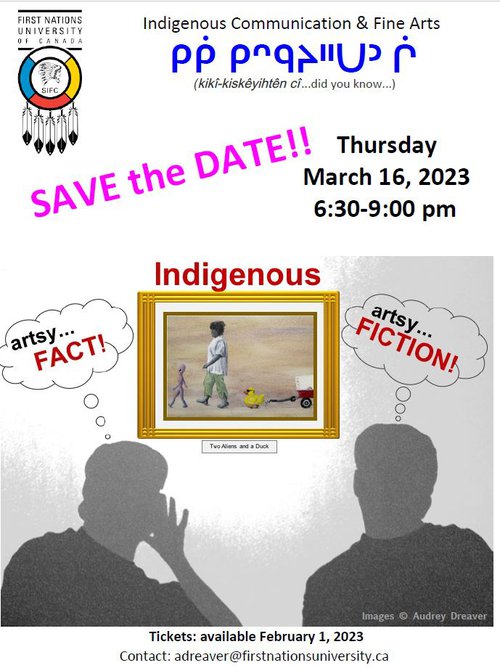 2023
Mar 16
6:30 PM — 9:00 PM
First Nations University of Canada - Regina Campus
1 First Nations Way
Regina SK
S4S 7K2
Treaty 4 Territory
Map
Cost: $50/ticket
Proceeds from the ticket sales will go to The Medicine of the Arts Special Project Fund in the Indigenous Fine Art & Art History programs
Fundraiser
Arts
Arts: Visual
Arts: Multidisciplinary
Heritage: Storytelling
Indigenous
Indigenous: First Nations
Indigenous: Métis
Indigenous artsyFACT / artsyFICTION 2023
The First Nations University of Canada's Indigenous Communication & Fine Arts programs invite you to its 2nd annual Indigenous art history event:

Indigenous artsyFACT / artsyFICTION 2023
Thursday March 16 from 6:30-9:00 pm
at FNUniversity Regina campus

Test YOUR Knowledge of Indigenous cultures of North America through the lens of Fine Art.

MORE topics ... MORE stories!!! The topics for the 2023 stories have been selected and, like last year, will cover a range of information including: Indigenous artists, historic and contemporary artworks, materials/mediums, and meanings as it relates to Indigenous artistic expressions throughout time.

The evening will feature two rounds of stories for participants to guess whether the tidbits of Indigenous art history are Indigenous artsyFACT or artsyFICTION.

Tickets are $50.00 per person and are available February 1st. Proceeds from the ticket sales will go to The Medicine of the Arts Special Project Fund in the Indigenous Fine Art & Art History programs.
2023
Mar 16
6:30 PM — 9:00 PM
First Nations University of Canada - Regina Campus
1 First Nations Way
Regina SK
S4S 7K2
Map
Cost: $50/ticket
Proceeds from the ticket sales will go to The Medicine of the Arts Special Project Fund in the Indigenous Fine Art & Art History programs
Organizer
Accessibility
Wheelchair Accessible
Safe and Inclusive Space