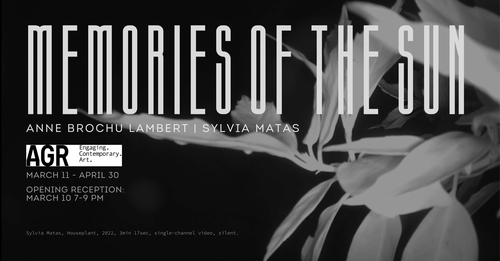 Art Exhibition
Arts: Visual
Memories of the Sun: Sylvia Matas & Anne Brochu Lambert
Memories of the Sun
Sylvia Matas & Anne Brochu Lambert
March 11 – April 30, 2023
opening reception: Friday, March 10 from 7-9 PM

In their respective art practices, Sylvia Matas and Anne Brochu Lambert visit far-off places through the lens of someone else's camera. Inverting the action of the stereotypical tourist — one endlessly snapping photos indistinguishable from countless others of the same scenic spot — the artists transform thrifted snapshots and online security camera feeds into serene emotional landscapes.

In her mixed media works on paper, Brochu Lambert obscures, reveals and annotates landmarks with digital and analog layers, replicating the process of memory to merge fact with feeling. The artist reinvents the vacation slideshow as an interactive projection, revealing her interventions on her source material (discarded amateur photographs of holiday spots) and inviting viewers to become part of the projection, further transforming these landscapes.

Matas' photographs, videos and bookworks describe a sentimental longing to be a wanderer elsewhere. The artist combs the internet for live-streamed footage from surveillance cameras, capturing and reframing the most absurd — a close-up view of leaves obscuring the lens or a parking lot in which nothing happens — as absurdly beautiful. In Reversal of Winds, Matas locates the improbable in the crumbling and deserted architecture of the everyday.

The exhibition title, Memories of the Sun, acknowledges the importance of photography to both artists' work and the camera's reliance on light to create an image while prompting consideration that photography and streaming video have replaced remembering and experiencing.
Organizer
Accessibility
Wheelchair Accessible
Safe and Inclusive Space