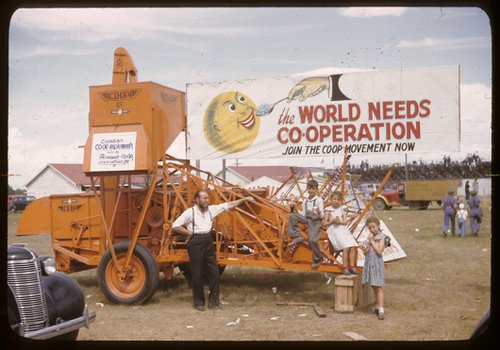 2023
Apr 12
12:00 PM — 1:00 AM
Swift Current Museum
44 Robert Street West
Swift Current SK
S9H4M9
Treaty 4 Territory
Cost: 10
The talk is free and you can bring your own brown bag lunch or pre-register for the paid lunch for $10
Special Event
Heritage
Heritage: Archives
Lunch N Learn with Hugh Henry
Everett Baker and the Co-op Movement

Everett Baker worked as a Sask. Wheat Pool fieldman from 1937 - 1957. During that time he traveled extensively to promote the development of co-ops. An avid photographer, Baker's colour photos from the 1940s and '50s are a compelling record of the breadth of the co-op movement throughout Saskatchewan.

Presenter:
Hugh Henry is the president of Sask. History & Folklore Society, the custodian of the Baker photo collection.
2023
Apr 12
12:00 PM — 1:00 AM
Swift Current Museum
44 Robert Street West
Swift Current SK
S9H4M9
Cost: 10
The talk is free and you can bring your own brown bag lunch or pre-register for the paid lunch for $10
Organizer
Accessibility
Wheelchair Accessible
Deaf / Hard of Hearing
Sight Impairment
Safe and Inclusive Space