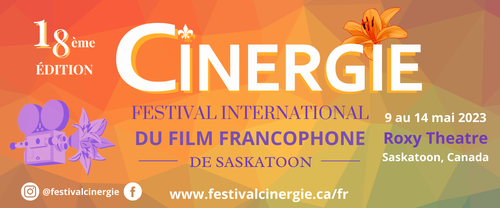 Festival
Arts: Media
Heritage: Languages
Indigenous
18th Edition Festival CINERGIE: International Francophone Film Festival of Saskatoon
As the only francophone film festival and one of the few entirely bilingual events in Saskatchewan, Festival CINERGIE is a unique and important cultural attraction in Saskatoon. It is the perfect occasion to explore the world of local, Canadian francophone cinema and all its international success. All chosen films are shown with English subtitles in order to allow a wider audience to experience francophone cultures. We showcase a wide variety of genres, including dramas, comedies, thrillers, classics, new releases, art films, and films from emerging artists.

Festival Highlights: Spotlight on the West Evening on May 11th and the Gala Evening on May 12th.

During our Spotlight on the West Evening, we will present a short film from Saskatchewan and a feature film from the Prairies and Acadia/New Brunswick; guest speakers will enlighten us on multilingual family systems, living in French as a minority language in Saskatchewan and Francophone film culture in Acadia.

Gala Evening presented by Radio-Canada ICI Saskatchewan: mini-concert by Joe Jackson (francophone Métis from Saskatchewan) and screening of the film Rosie (2022) by Gail Maurice (Métis from Saskatchewan).

We will also welcome the Tournée Québec Cinéma and the Vues d'Afrique Festival from Montréal. May 9th to 11th hold our school programming. Saturday will hold family and kids' activities and screening discussions in French. Numerous screenings will interest youth, adults and elders from all backgrounds. Then, finally, there will be the closing event with the Mystery Screening.
Organizer
Accessibility
Wheelchair Accessible
Deaf / Hard of Hearing
Safe and Inclusive Space